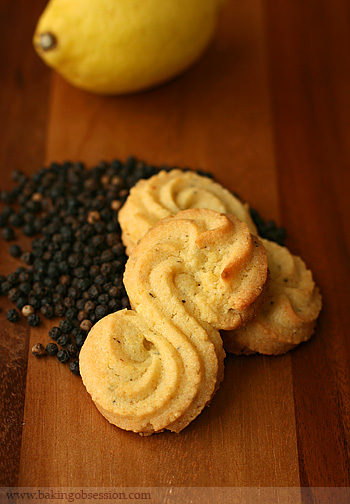 If you suffer from carpal tunnel syndrome or arthritis, don't try to pipe these cookies. And I'm not joking. My hands were quite sore after piping 4 dozens of these, even though I don't have any of the aforementioned problems. The dough is quite stiff and not so easily piped. To alleviate the process, you can either chill the dough briefly, then roll it into little balls and bake. Or, you can form a log from the whole batch of dough, refrigerate it, slice and bake the following day as ice-box cookies.
Please, don't get discouraged by what I've just said. The cookies are good and very much deserved to be made. Regardless the way they are shaped, the cookies are so Italian, crunchy but tender, buttery, lemony, and with a pleasant light peppery bite.
Makes 2 dozens
Ingredients:
1 ¾ cups all-purpose
1 cup finely ground yellow cornmeal
1 tsp coarsely ground black pepper (freshly ground)
½ tsp Kosher salt
Zest of 3 lemons
1 cup minus 2 tbsp granulated sugar
1 cup (2 sticks; ½ lb) unsalted butter, very soft
1 large egg + 1 egg yolk
1 tsp pure vanilla extract
1 tsp pure lemon extract (or ¼ tsp lemon oil)
Preparation:
Center an oven rack and preheat to 350F. Line a large baking sheet with parchment paper or a silicone mat. Put the lined baking sheet into another sheet to protect the bottoms of the cookies from overbrowning. Set aside.
In a medium bowl, whisk together the flour, cornmeal, pepper, and salt. Set aside.
In a small bowl, combine the zest and sugar together. Rub with your fingertips to release the lemon oil.
In a large bowl, with an electric mixer (or in a bowl of the stand mixer with the paddle attachment) beat the butter until light and fluffy. Gradually bean in the sugar-zest mixture. Add the extracts, then the egg and egg yolk, one at a time, mixing well after each addition. Gradually add the dry ingredients, mix until combined. Transfer about ¼ of the dough into a pastry bag fitted with a large star tip (I used Ateco 826) and pipe S shapes about 2 ½-inch long and 1-inch wide leaving about 1 inch space around each cookie. If you find it too difficult to pipe S-s, you can pipe zigzags or sticks which are easier to pipe. Add another small portion of the dough and continue to pipe. Since the dough is stiff, it's better not to overfill the pastry bag and use both hands to squeeze the bag. Continue until all the dough is used. Chill the formed cookies on the baking sheet for about 20 minutes before baking. Bake in batches, for about 20-23 minutes, until the cookies are light golden in color. Cool on the sheet on a rack for 10-15 minutes, then transfer the cookies to the rack and cool completely. The cookies can be made 1 week in advance.