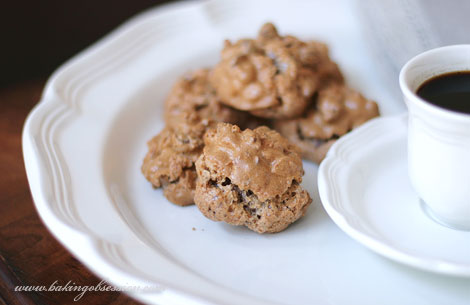 These cookies are bumpy, and nutty, and ugly, and … so good! Despite a generous amount of nuts, they are as light as feathers. And may be because of this lightness (not to mention-flavor), I can finish a half of batch effortlessly.
I can't think of anything pairing better with a cup of espresso.
Makes about 36
Ingredients:
1 cup toasted almonds, coarsely chopped
1 cup toasted walnuts, coarsely chopped
2 large egg whites
1 cup sugar
2 tsp instant espresso powder (or 3 tsp instant coffee granules)
Preparation:
Position the racks to divide the oven into thirds and preheat the oven to 350 F. Line two large baking sheets with parchment or silicone mats.
Put all the ingredients, including the nuts, in a medium heavy-bottomed saucepan. Set it over medium heat and stir constantly with a wooden spoon until the ingredients are just warm to the touch. Remove from the heat.
Drop the batter by scant tablespoons onto the baking sheets, leaving about an inch of space between the mounds.
Bake the cookies for 18-20 minutes, rotating the pans from top to bottom and front to back at the midway point. When properly baked, the cookies will be puffed, cratered, shiny and dry. Remove the cookies from the oven and let them remain on the sheets for 5 minutes before gently prying them from the liners and transferring them to racks to cool to room temperature.
The cookies can be kept for about 3 days in an air-tight container. As with all meringues, humidity will make them soggy and sticky.
The recipe belongs to Dorie Greenspan.