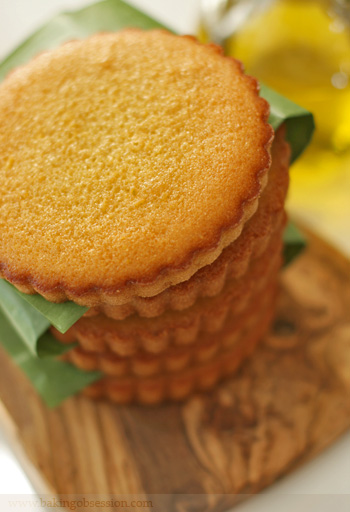 I found this recipe in Nancy Silverton's book who got it from the famous Italian olive oil production company – "Capezzana's". Apparently, it was old and cherished family recipe. The recipe calls for a lot of extra-virgin olive oil, and I mean – A LOT. But the only thing Nancy – I'm quoting her – "dared to change" was the size of the pan she used, or, to be correct – the pans, since she baked the cake batter in small tartlet pans instead of two 9" round pans. Nancy loved the crust and wanted to increase the crust to crumb ratio. Well, if she didn't dare to change anything, I thought I probably shouldn't do it either; and with a sigh measured out 1½ cups of very good organic Italian extra-virgin olive oil (sigh… not cheap). I dared, though, to add the salt, a whole teaspoon; it seemed like a necessary ingredient (maybe it was supposed to be mentioned there but somehow it got lost during the publishing process of the book :) The little cakes turned out nice. I understand now Nancy's affection to the crust – it's crackly, and sugary and, wonderful; inside, on the other hand, is very tender. If the cakes are made in advance the crust can lose some of its lovely crispiness (humidity is a significant contributing factor to this); simply place the cakes back to the 350F oven for about 10 minutes to return the crust its once lost great quality.
Adapted from the "Pastries from the La Brea Bakery"
Makes 12 4-inch round cakes or 2 9-inch cakes
Ingredients:
Grated zest of 3 oranges
1 ½ cups granulated sugar
2 cups + 2 tbsp unbleached pastry flour
1 tsp kosher salt
½ tsp baking soda
½ tsp baking powder
1 ½ cups extra-virgin olive oil (the better the olive oil, the better the cake)
1 ½ cups whole milk
3 large eggs
Preparation:
Center an oven rack and preheat the oven to 350F. Lightly coat the tart or tartlet pans with olive oil. Set aside.
In a large bowl, rub together the orange zest and sugar until the sugar is moist and fragrant. In a sieve, combine the flour, salt, baking soda, and baking powder. Sift over the sugar. Whisk to combine the dry ingredients, then make a well in the center. In a large liquid measuring cup, combine the oil, milk, and eggs, whisk to combine, then pour into the well in the dry ingredients and slowly draw in the flour mixture, whisking until incorporated. The mixture should be fairly smooth before you draw in more flour. Mix well.
Pour the butter into the prepared molds using ½-cup measuring cup as a ladle. The molds should be three-quarters full. Place the molds on a large baking sheet, half an inch apart.
Bake for 35-40 minutes until nicely browned and firm to the touch.