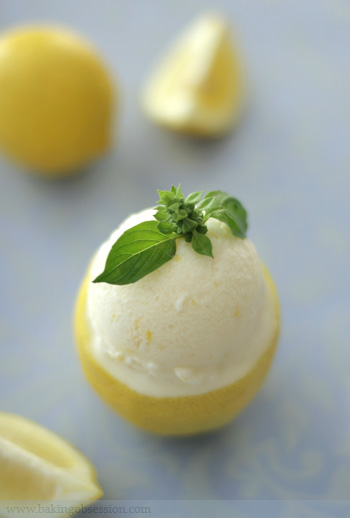 There's another frozen and basil-containing treat. But the basil here is not dominant and very pronounced; it's more of a subtle and intriguing accent. The sherbet is tangy, refreshing and light. And it's so effortlessly put together. For an appealing presentation the sherbet can be served in the juiced hollowed lemons (reserve the juice for making the sherbet and keep the leftover juice (if any) for other use.
I'm thinking this sherbet would be nice layered with espresso granita in a glass… I'll try it next time. There's nothing left to experiment with now.
Just slightly adapted from Alice Medrich's "Pure Dessert".
This is my entry for this month's CLICK event (Citrus).
Makes about 1 quart
Ingredients:
A large bunch of basil (leaves weight – 30 g)
1 cup granulated sugar
½ cup fresh lemon juice (from about 3 lemons)
2 2/3 cup whole milk
Grated zest of 2 medium organic lemons
Preparation:
Tear the basil leaves roughly. Put the leaves and sugar into a medium bowl. With your fingers massage the leaves with sugar to release the basil aroma. Add the lemon juice to the bowl, stir, cover, and let stand for an hour.
Stir the milk into the lemon juice mixture. Strain through a fine sieve into another bowl or a large liquid-measuring cup, pressing lightly on the basil leaves. Add the lemon zest. Chill for about 4 hours. Process in an ice cream maker. If there's any lemon zest accumulated on the dasher, scrape it and stir it back into the sherbet with a fork. Serve the sherbet soft right from the ice cream maker or transfer into an airtight container and transfer to the freezer to firm up (at least 3 to 4 hours) before serving.