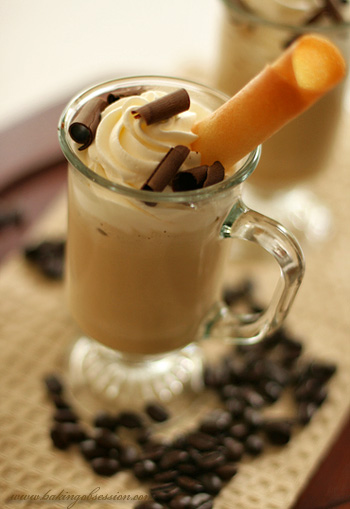 This one belongs to an instant-type dessert category. Homemade vanilla bean ice cream certainly adds some charm to the dish but, honestly speaking, it can be replaced with a good quality store-bought ice cream with a wonderful result. Tuiles cookies are good as a crunchy accompaniment, but again, any crispy cookie will do just fine.
Adapted from "Desserts by the Yard"
This is an entry for the Click: July 2008 (Coffee and Tea) event.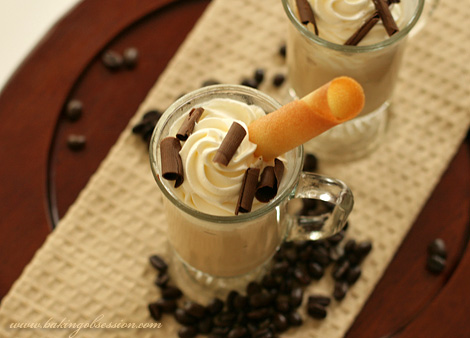 Makes 4 servings
Ingredients:
1 pint vanilla ice cream, slightly softened
½ cup cold espresso
1/2 cup heavy cream, whipped to medium-stiff peaks
1 tbsp finely shaved chocolate or chocolate curls
Tuiles cookies for serving (the recipe is coming…)
Preparation:
Place the bowl of a stand mixer, or a large bowl and the beaters of a hand mixer, and four tall glasses in the freezer for 30 minutes.
Spoon the ice cream into the ice-cold bowl and add the espresso. Using a stand mixer fitted with the paddle attachment or a hand mixer, blend at low speed until smooth. Spoon into the frozen glasses, top with the whipped cream, and sprinkle on the chocolate shavings or curls. Serve immediately with the cookies. Do not place in the freezer for up to 4 hours as suggested in the book. It will inevitably lead to the ice crystal formation and ruin the dessert. Frozen cream – yuck!