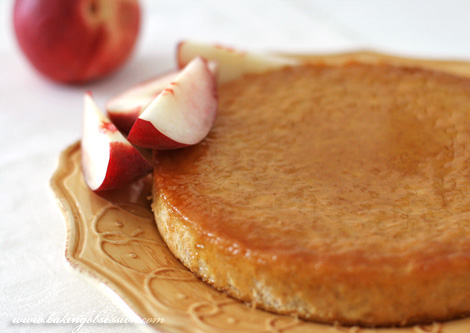 Here's a cross between a rice pudding and flan. Don't make it if you don't like either from the aforementioned above. But if you are a fan of both, you might find this cake interesting. I served it with very ripe peaches and whipped cream, but almost any fruit or berries will go nicely.
The recipe adapted from Lori Longbotham "Luscious creamy desserts".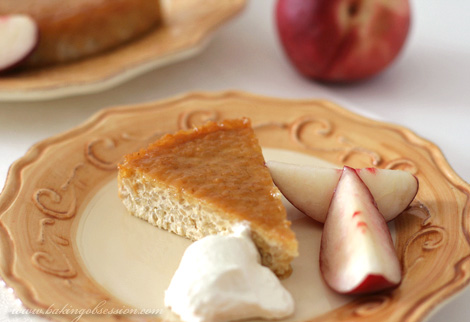 Makes 1 8-inch cake, about 10 servings
Ingredients:
½ cup granulated sugar

¼ cup water
4 cups half-and-half

2/3 cup Arborio or other short-grain Italian rice

½ cup packed light brown sugar

Zest from 2 lemons, removed in wide strips with a vegetable peeler (count your strips!)

¾ tsp ground coriander

1/8 tsp salt
3 large eggs

1 ¼ tsp pure vanilla extract
Preparation:
Spray the bottom and the sides of an 8-by-1 ½-inch round cake pan with oil. Stir together the sugar and water in a high-sided small saucepan. Cook over medium heat, stirring occasionally, until the sugar dissolves, then raise the heat to moderately-high and boil without stirring, occasionally brushing down sides of the pan with a wet pastry brush, until the syrup turns deep amber in color. Immediately remove the pan from the heat and pour the caramel into the prepared cake pan. Quickly tilt the pan to cover the bottom with the caramel. Set aside to cool and harden.
Center an oven rack and preheat the oven to 350F.
Bring the half-and-half, rice, brown sugar, zest, coriander, and salt to a simmer in a medium heavy saucepan over medium heat. Stirring constantly, cook for about 15 minutes, or until most of the liquid is absorbed. Remove the pan from the heat and let stand for 10 minutes, stirring occasionally, then discard the zest (make sure you took all zest stripes from the mixture).
In a small bowl whisk the eggs and vanilla together, then whisk into the rice mixture.
Pour the rice mixture into the cake pan, smooth the top. Bake the cake for about 35-40 minutes, or until the top just begins to brown but the center is still slightly jiggly. Let cool completely on a wire rack. Run a thin knife around the edges of the pan. Invert the cake onto a plate, tap on the pan, and carefully remove the pan. Serve with lightly whipped cream and fresh fruit or berries.