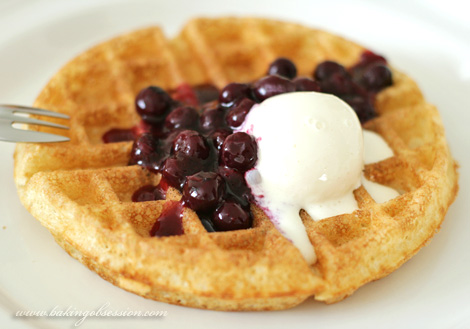 This is just one of dozens possible ways to serve the waffles. But this one is very delicious, as well as the waffles themselves. The fresh hot waffle, crisp on the outside and tender within, topped with a scoop (or two) of immediately starting melting tangy ice cream and thick homemade blueberry sauce make a really nice combo, I can assure you.
All preparation is done the night before. Only the eggs are added right before the baking. The waffles are wonderful fresh, right from the grids. The leftover batter can be kept in the refrigerator for up to 3 days. That is, make as many waffles as you plan to serve at once: reheated waffles are, frankly, not enjoyable at all.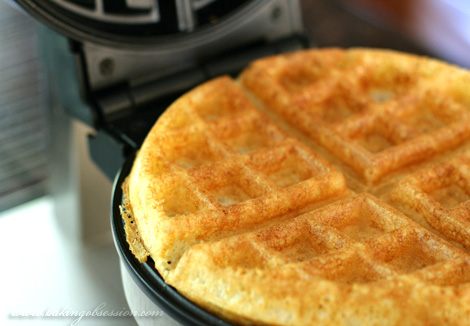 Makes 6 large Belgian-style waffles, 6 adult servings
Ingredients:
½ cup lukewarm water (105F)

¼ cup granulated sugar, divided

2 ¼ tsp active dry yeast (1 packet)

2 cups whole milk

½ cup (1 stick) unsalted butter, melted and cooled

2 cups all-purpose flour

1 heaped tsp of Kosher salt



2 large eggs, lightly beaten

2 tsp pure vanilla extract

¼ tsp baking soda
For serving:
Preparation:
The night before baking (at least 8 hours ahead), in a large bowl, combine the warm water, 1 tsp of the granulated sugar and yeast. Stir to dissolve, cover with plastic wrap and let stand in a warm place for 10 minutes, until foamy.
Meanwhile, stirring, heat the milk and the rest of the sugar in a small saucepan until the milk is warm (105F). Whisk the milk into the yeast mixture. Whisk in the melted butter. Gradually whisk in the flour and salt, mix until well combined and smooth. Cover the bowl tightly with plastic wrap and let stand overnight on the counter. Do not refrigerate.
When ready to bake, preheat your Belgian waffle maker. Center an oven rack and preheat the oven to 200F. Place a cooling rack onto a large baking sheet and set aside. While the waffle maker is heating, whisk the eggs, vanilla extract and baking soda into the batter. Use a measuring scoop to measure out the batter. Pour onto the hot waffle grids (don't forget to spray the grids with oil before the first batch). Spread the batter evenly over the grids using a heat-proof spatula. Close the cover and bake according to your waffle manufacturer's directions. If the waffle is not served right away, put the waffle onto the cooling rack and slide into the preheated oven while making the rest of the waffles. It will prevent the waffle from losing crispiness and will keep it warm. Repeat with the rest of the batter. Or, cover the leftover batter with plastic wrap and keep in a fridge for up to 3 days. Stir well before baking.