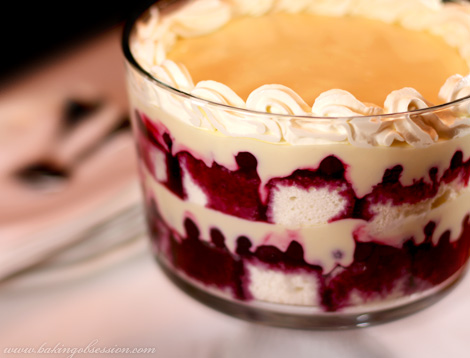 This dessert can be prepared in stages over several days. And after assembling it has to seat in a refrigerator for at least 6 hours or overnight which is even better for the cake to soak and flavors to blend. The fact that this dessert can be assembled well in advance makes the trifle perfect for entertaining by easing the stress related to the last minute dessert preparation. But I should probably have started by telling you that this trifle is amazingly good, light and very refreshing.

Makes about 14-16 servings
You will need a large trifle bowl, or any glass bowl or vase big enough to hold all these layers.
Ingredients:
Preparation:
Slice the angel cake into thick slices, cut off the crust. Cut the cake into 1-inch cubes. Fit the cubes tightly into the bottom of the bowl. Brush the cake with ¼ cup of Limonchello. Spread half of the blueberry sauce. In a medium bowl, whisk together the lemon curd, mascarpone and ½ cup of the whipping cream. Pour half of this mixture over the blueberry sauce and smooth the top with a rubber spatula. Delicately arrange more cake cubes over the mascarpone cream. Soak them with another ¼ cup of Limonchello. Top with another half of the blueberry sauce and pour the rest of the mascarpone-curd mixture. Cover the bowl with plastic wrap and refrigerate. A couple of hours before serving time whip ½ cup of the cream, transfer to a piping bag and pipe a decorative border on the surface of the trifle.
Serve the dessert by spooning it into individual bowls. You can offer more whipped cream to top the dessert.