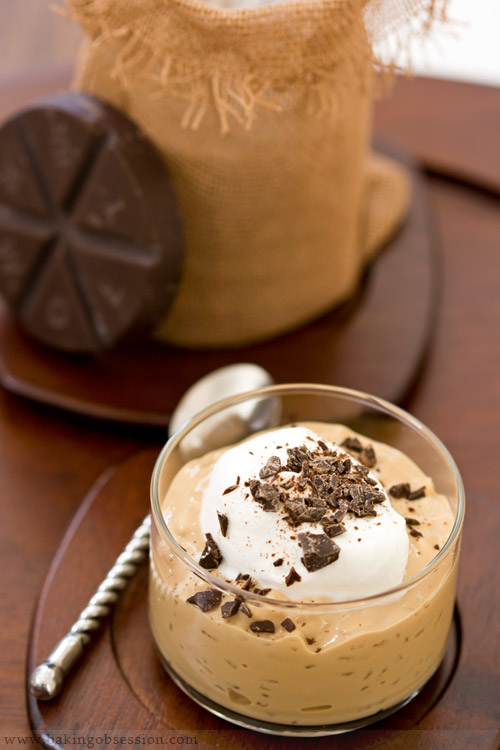 The pudding of pure dulce de leche flavor. There are people who either love or can't stand the rice puddings. But there's a chance for the latter to be converted if they try this particular one (I happened to witness such a miracle the other day).
Makes about 6 to 8 servings
Ingredients:
1 can homemade dulce de leche or store-bought
3 cups low fat (2%) milk (or more to taste)
1 cinnamon stick, broken in half
½ tsp salt
½ cup arborio rice
1 tbsp dark rum
1 tsp pure vanilla extract
Unsweetened whipping cream, whipped to soft peaks, for serving (the pudding is sweet, I find it's unnecessary to add any sugar to the cream)
Mexican chocolate, finely chopped, for sprinkling (optional, but so good)

Preparation:
In a heavy saucepan, combine the dolce de leche, milk, cinnamon stick, and salt. Heat over medium heat, whisking, just until the dolce de leche is dissolved. Give it a taste now. If you find the mixture too sweet, add another cup of milk (or start with a half-cup). Add ½ cup of rice to the milk (add 1 tbsp of rice to each additional half-cup of milk added earlier). Switch to a wooden spoon and, stirring constantly, bring the mixture to a boil. Reduce the heat to low and simmer gently, stirring often, for about 20 to 30 minutes, until the rice is very tender and the mixture is thickened but still soupy. If you plan to serve the pudding warm, you might want to cook it a bit longer (about 5 minutes more) to make it slightly thicker. Take the saucepan off the heat, discard the cinnamon stick, stir in the rum and vanilla extract. Transfer the pudding to a medium stainless steel bowl and place the bowl into an ice-cold water bath to cool the pudding quicker. Stir constantly if you don't want skin to form. Once cooled, cover with plastic wrap, pressing it directly over the surface and refrigerate until cold.
To serve, divide the pudding between the serving bowls and top with the whipped cream (or just pour the cream over without whipping). Sprinkle with the Mexican chocolate and serve.