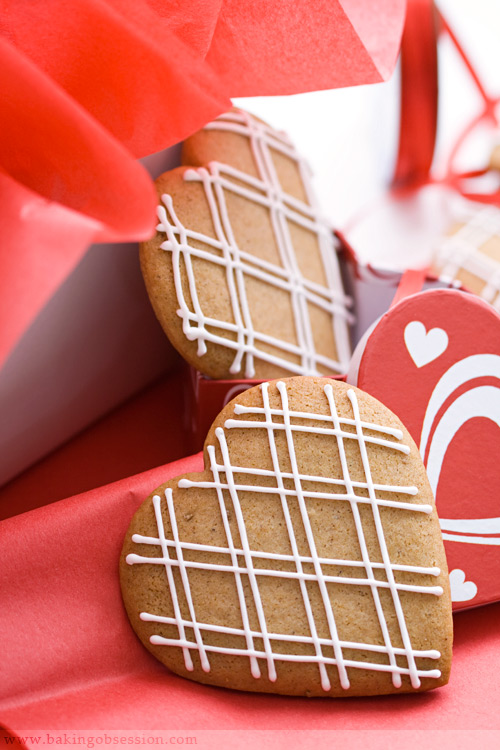 These are fabulous cookies. Every time my cake decorating projects require marzipan, I make a double batch, so I could use it also as a filling for the cookies. It's not quite necessary to decorate or shape them into hearts (now it's just very appropriate). The prep time can be reduced about three times, if the dough and marzipan are simply cut into squares using a pizza wheel.
These cookies are amazing German sweets that get only better over time. But, honestly, I never can wait for too long, maybe only overnight, before indulging myself. Eight hours is usually enough for marzipan to soften the dough.
Happy Valentine's Day!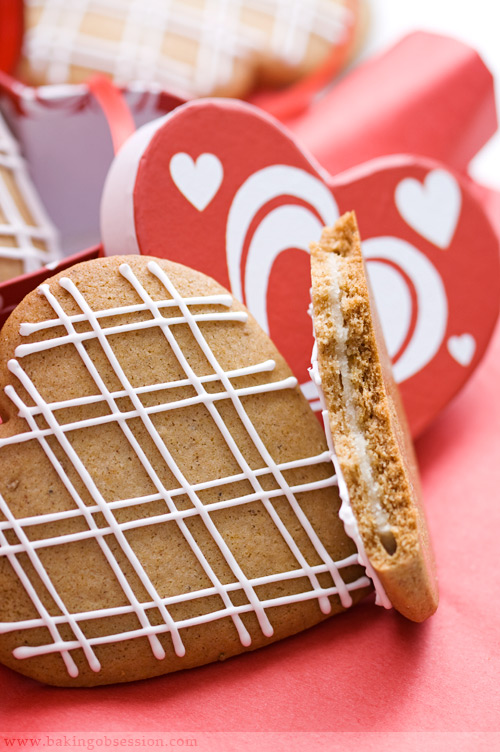 Makes about 2 dozen 3-inch cookie sandwiches
Use this recipe, divide the dough in half, wrap in plastic and let rest overnight on the counter

For the filling:
12 oz homemade marzipan or store-bought
Royal icing for decorative piping (optional)
Preparation:
Center the oven and preheat the oven to 350F. Line a large baking sheet with a silicone mat or parchment paper.
On a flour-dusted surface, roll the dough (one portion at a time) to about 1/4-inch thick. Using a large heart cookie cutter, cut out as many hearts as you can. Reroll the scraps, cut out more hearts. Repeat with the remaining dough.
Dust the working surface with icing sugar and roll the marzipan thinly. Using a smaller heart cookie cutter, cut out twice as few hearts than you cut out from the honey dough.
Place the marzipan hearts on top of the bigger lebkuchen hearts, moisten the edges with water, top with the remaining lebkuchen hearts, and press the edges well to seal.
Bake in batches until the cookies just start getting some color, for about 15 minutes. Cool on a cooling rack until no longer soft and fragile, then transfer to the rack to cool completely. Once cooled, store in an air-tight container for up to several weeks.