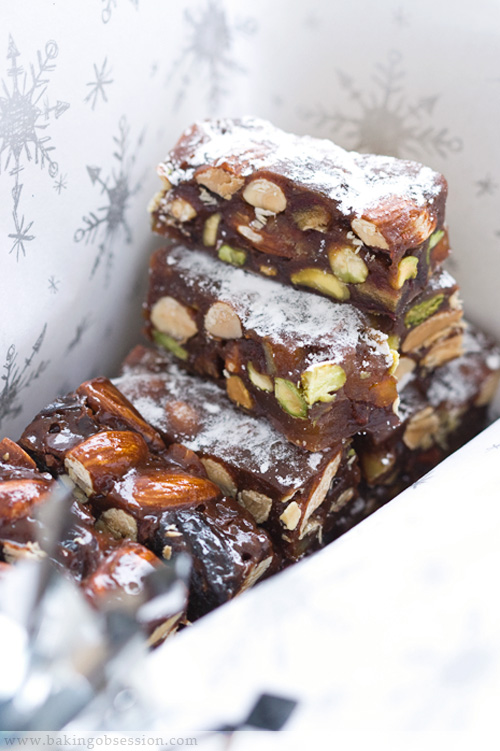 There shouldn't be any excuses for not baking this time of the year. Perhaps, it would be better to start a bit earlier and not a week before Christmas. But, as an old proverb goes – it's still better later than never.
I think, I'm back.
I used to bake this Italian specialty in a round pan and give it whole as a gift to our Italian (and very appreciative) friends. But this year I'm making it different, baking it square, slicing into finger-like pieces and stuffing into multiple boxes along with other treats and cookies for many recipients. It saves me time, and saves them trouble to slice the panforte by themselves (surprisingly, but not everyone owns a good heavy sharp knife).
First panforte is quite hot and not too sweet due to the sour fruits I used (I liked this one most). The second one is milder and sweeter and will please more conservative taste. To distinguish one variety from another, I dusted the apricot panforte with icing sugar and left the prune panforte in its shiny beauty.
I want to emphasize a proper way of packaging these confections for gift-giving. The best would be to place each slice into an individual parchment cupcake liner (it will prevent them from sticking), or at least separate the rows with parchment strips. Do not put them directly onto decorative tissue paper. First of all, most of this paper is not food-safe. And second, the panforte will firmly stick to it.
Makes two (one of each kind) 8-inch square that could be sliced into about 40 slices (80 total)
For the prune cherry nib panforte:
4 oz prunes, quartered
4 oz dry sour cherries
1 oz (¼ cup) cocoa nibs
1 cup toasted whole hazelnuts
½ cup toasted whole almonds
½ cup all-purpose flour
3 tbsp natural cocoa powder
1 tsp cinnamon
½ tsp ginger
¼ tsp nutmeg
¼ tsp coriander
1 tsp freshly coarsely ground black pepper
a generous pinch of cayenne pepper (about a half of the smallest 1/8-tsp measuring spoons)
zest of 1 large lemon
5 ½ oz fine granulated sugar
7 ½ oz liquid honey
For the apricot pistachio cardamom panforte:
4 oz apricots, quartered
4 oz dates, quartered
2 oz candied orange peel (homemade preferred)
1 ½ cups toasted whole almonds
½ cup whole pistachios
½ cup all-purpose flour
2 tbsp natural cocoa powder
1 tsp cinnamon
¾ tsp cardamom
¼ tsp nutmeg
¼ tsp coriander
¼ tsp finely ground black pepper
¼ tsp salt
zest of 1 orange
zest of 1 lemon
5 ½ oz fine granulated sugar
7 ½ oz liquid honey
Preparation (the same for both):
Position a rack in the lower third of the oven and preheat the oven to 300 F. Spray an 8-inch square pan with vegetable oil spray and line the bottom and the sides criss-cross with two stripes of parchment covering the pan completely. Spray again.
In a large bowl, mix the dry fruits, nuts, nibs (if using), candied peel (if using), flour, cocoa, spices, and citrus zest.
In a 3-to 4-quart saucepan, bring the honey and sugar to a rolling boil over medium heat, stirring. Boil until an instant read thermometer indicates 240 F.
Remove from the heat and pour over the dry ingredients and mix well, working quickly, before the syrup cools. Scrape the mixture into the prepared pan and spread it evenly. Wet your hand and use it for spreading and smoothing the surface. Bake until the batter bubbles in the center and at the edges, about 40 minutes. Cool the panforte in the pan on a rack.
Invert the panforte onto a plate and remove the pan. Peel off the parchment and turn the panforte right side up. Slice thinly with a sharp lightly oiled knife. Wash the knife time to time and oil again to ensure neat slices. Keep between parchment paper in an airtight container at room temperature. It will only improve with time.