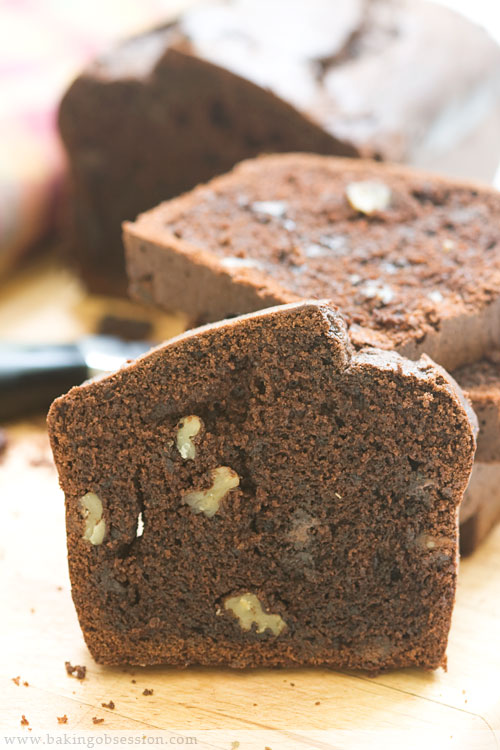 The cake is sort of a lighter version of classic pound cake. Ricotta cheese replaces half of the butter which results in no less delicious and outstandingly moist cake. Good quality cocoa, chopped chocolate, and a double shot of espresso provide a superior chocolate flavor.
The cake on the photo is impatiently sliced warm.
Makes one 8×4 loaf cake
Ingredients:
1 ¼ cups all-purpose flour
¾ cup unsweetened Dutch cocoa powder
1 ¼ tsp baking powder
½ tsp baking soda
½ tsp salt
¼ cup espresso, cooled to room temperature
2 tsp pure vanilla extract
1 stick unsalted butter, at room temperature
1 cup fine granulated sugar
8 oz whole fat ricotta cheese, at room temperature (if it's made according to this recipe, the ricotta will be smooth enough to proceed right away; store-bought ricotta will need a whirl in a food processor)
3 large eggs
1 cup coarsely chopped toasted walnuts
½ cup (3 oz) coarsely chopped chocolate
Preparation:
Center an oven rack and preheat the oven to 350F. Line an 8×4-inch loaf pan with parchment paper.
Sift the flour, cocoa, baking powder, soda, and salt onto a sheet of parchment paper or into a bowl. In another small bowl or a cup, combine the espresso and vanilla extract.
In a large bowl, beat the butter with an electric mixer for a few seconds, until creamy. Gradually add the sugar and beat until light and fluffy, 6 to 7 minutes. Add the ricotta and beat well to combine. With the mixer on medium, add the eggs, one at a time, beating well after each addition. Reduce the speed to low and add the dry ingredients in three additions alternating with the espresso, starting and ending with the dry ingredients. Scrape the bowl as necessary, and beat only enough to incorporate the ingredients after each addition. Stir in the toasted walnuts and chopped chocolate.
Transfer the batter into the prepared loaf pan, smooth the top and bake for about 1 hr. to 1 hr. 10 min., or until a cake tester inserted into the center comes out clean. Cool in the pan on a rack for 10 minutes, then unmold and cool completely on the rack.