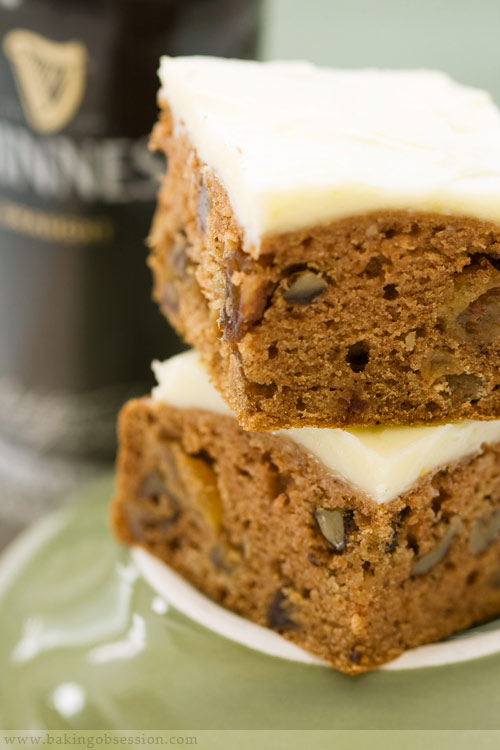 It would be, probably, nice to post it last Wednesday – St. Patrick's Day, but I've been running behind my schedule lately. This recipe is slightly adapted from very old Guinness brewers' recipe which produces a flavorful, moist eggless cake.
Makes one 8-inch square cake
For the cake:
1¼ cups all-purpose flour
1 tsp baking soda
½ tsp salt
1 tsp ground cinnamon
½ tsp ground cloves
1 ¼ cups unsweetened applesauce
¾ cup golden brown sugar
1/3 cup vegetable oil
¼ cup Guinness stout
½ cup coarsely chopped lightly toasted walnuts
½ cup raisins
½ cup chopped moist dates
For the icing (consider as an option; the cake is also good without it):
4 oz (1 stick) unsalted butter (ideally, Irish Kerrygold), at room temperature
1 cup confectioners' sugar, sifted
Zest of 1 lemon
Juice of about ½ lemon
Make the cake:
Center an oven rack and preheat the oven to 350F. Lightly spray an 8-inch square cake pan with oil and line with parchment paper.
In a medium bowl, sift the flour, baking soda, salt, cinnamon, and cloves. Set aside.
In a large bowl, whisk together the applesauce, brown sugar, oil, and Guinness. Gradually add the flour mixture, beating well after each addition. Stir in the nuts, raisins, and dates.
Spoon into the prepared pan and smooth the top. Bake for about 40 to 45 minutes, or until a skewer inserted in the center comes out clean. Cool the cake in the pan on a rack for 10 minutes, then unmold and cool completely on the rack before icing.
Make the icing:
In a medium bowl, beat the butter with an electric mixer until smooth. Add the confectioners' sugar, lemon zest, and just enough lemon juice to make the icing soft and spreadable. Spread over the top of the cake, either smooth the icing or make swirls. Chill the iced cake briefly for neat slicing.