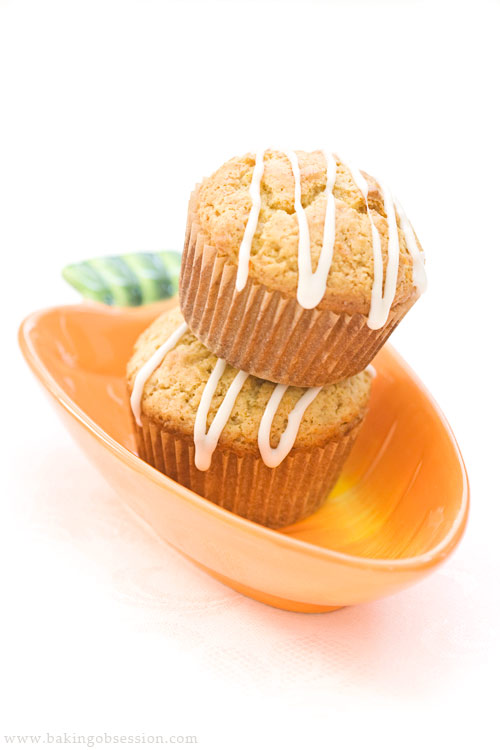 I like this carrot jam and make it often. This is not the marmalade, but its intense citrus flavor and the texture reminiscent to orange peel always fool everyone. If you are not very exciting about making the carrot jam, but want to give these muffins a try, any marmalade (homemade or store-bought) should do the trick just as well. To be honest, I was basically throwing whatever I had on hand (carrot jam it was) into my mixing bowl. Nevertheless, the muffins turned out perfect.
Makes 12 regular size muffins
For the muffins:
1 cup oat flour
1 cup all-purpose flour
¼ cup granulated sugar
1 ½ tsp baking powder
½ tsp baking soda
½ tsp salt
6 oz (½ cup) carrot "marmalade" (warm it slightly if it was refrigerated)
½ cup whole fat yogurt
¼ cup vegetable oil
2 large eggs
1 tsp pure vanilla extract
Zest of ½ orange (reserve juice for glaze)
For the glaze:
½ cup confectioners' sugar, sifted
About 1 tbsp fresh orange juice
A drop orange oil or 1/8 tsp pure orange extract
Make the muffins:
Center an oven rack and preheat the oven to 375F. Line 12 muffin molds with parchment paper liners.
In a large bowl, whisk all the dry ingredients to combine. In another bowl, whisk well (use the same whisk) the wet ingredients and orange zest. Pour over the flour mixture and mix just to combine. Do not overmix. The muffin batter should be lumpy. Divide between the prepared muffin molds and bake for about 18 to 20 minutes, until lightly browned and a cake tester inserted into a center comes out clean. Cool for 5 minutes on a rack, then unmold and cool completely before glazing.
Make the glaze:
In a small bowl, combine the confectioners' sugar, orange juice, and orange oil. Whisk until smooth and piping consistency. Transfer into a small Ziploc bag, snip one corner and drizzle over the muffins' tops.
The batter can also be baked in a loaf pan (8×4-inch). Bake at 350F for about 45-50 minutes.