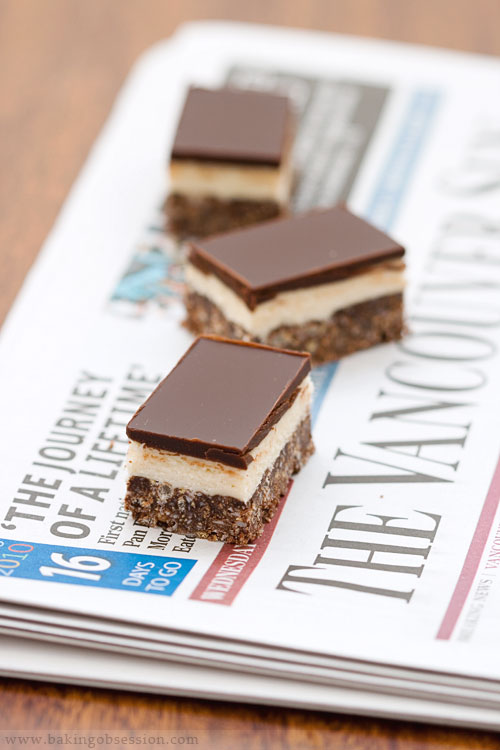 Strippers and drunks.
I wonder how many other fellow bloggers used this old joke as a title to this month Daring Bakers' challenge post. The host – Lauren of Celiac Teen chose gluten-free graham wafers and Nanaimo bars as the January challenge. She based her recipe on the 101 Cookbooks and www.nanaimo.ca. With the Olympics so close, her choice seems thoughtful and sweet (literally, as well :)
I made a very much original version here. Since, frankly, flavored differently these bars wouldn't be quite Nanaimo anymore. They still would be bars, and Canadians have probably about hundred of different kinds (I know for sure, being a Vancouverite myself). Anyway, these are traditional Nanaimo bars, loved by so many Canadians.
Although, I would still like to say a word about one particular ingredient – Bird's custard powder. Available not everywhere, it might seem mysterious and maybe even magical. But it is not. It consists of cornstarch, food color (artificial), and flavor (artificial as well). The Bird's custard powder can be entirely and successfully omitted. You don't need any additional cornstarch (there's plenty of it in the confectioners' sugar already). Just add about a teaspoon of pure vanilla extract to the buttercream mixture. If you are after a yellowish tint, I recommend adding a drop of natural food color.
Makes 8 x 8-inch square slab, about 24 reasonably-sized bars (or as many as you manage to slice into)
For the gluten-free graham wafers:
1 cup (138 g; 4.9 oz) sweet rice flour (also known as glutinous rice flour)
3/4 cup (100 g; 3.5 oz) tapioca starch/flour
1/2 cup (65 g; 2.3 oz) sorghum Flour
1 cup (200 g) (7.1 oz) packed dark brown sugar
1 tsp baking soda
¾ tsp kosher salt
7 tbsp (100 g; 3 ½ oz) unsalted butter, cut into 1-inch cubes and frozen
1/3 cup honey, mild-flavored such as clover.
5 tablespoons whole milk
2 tablespoons pure vanilla extract
Make the gluten-free graham wafers:
In the bowl of a food processor fitted with a steel blade, combine the flours, brown sugar, baking soda, and salt. Pulse on low to incorporate. Add the butter and pulse on and off, until the mixture is the consistency of a coarse meal. If making by hand, combine aforementioned dry ingredients with a whisk, then cut in the butter until you have a coarse meal. No chunks of butter should be visible.
In a small bowl or liquid measuring cup, whisk together the honey, milk and vanilla. Add to the flour mixture until the dough barely comes together. It will be very soft and sticky.
Turn the dough onto a surface well-floured with sweet rice flour and pat the dough into a rectangle about 1 inch thick. Wrap in plastic and chill until firm, about 2 hours, or overnight.
Divide the dough in half and return one half to the refrigerator. Sift an even layer of sweet rice flour onto the work surface and roll the dough into a long rectangle, about 1/8 inch thick. The dough will be quite sticky, so flour as necessary. Cut into 4 by 4 inch squares. Gather the scraps together and set aside. Place wafers on one or two parchment-lined baking sheets. Chill until firm, about 30 to 45 minutes. Repeat with the second batch of dough.
Adjust the rack to the upper and lower positions and preheat oven to 350 degrees Fahrenheit (180 degrees Celsius).
Gather the scraps together into a ball, chill until firm, and reroll. Dust the surface with more sweet rice flour and roll out the dough to get a couple more wafers.
Prick the wafers with toothpick or fork, not all the way through, in two or more rows.
Bake for 25 minutes, until browned and slightly firm to the touch, switching the shelves and rotating the sheets halfway through to ensure even baking. Might take less, and the starting location of each sheet may determine its required time. The ones that started on the bottom brown faster.
When cooled completely, place enough wafers in food processor to make 1 ¼ cups of crumbs. Another way to do this is to place the crackers in a large ziplock bag, force all air out and smash with a rolling pin until wafers are crumbs.
Notes for the graham wafers:
Glutinous rice flour does not contain any gluten, as it is made from a type of rice called glutinous (or sweet) rice.
The graham wafer dough is very sticky. Make sure you are flouring (with sweet rice flour) well, or the dough will be difficult to remove from the surface you roll it out on. Also be sure to keep it cold. You do not want the butter to melt.
I chose these flours because of their availability. Tapioca starch/flour and sweet rice flour can often be found in Asian grocery stores, or in the Asian section of you grocery store. Sorghum can be slightly more difficult to find, but it can be replaced with brown rice flour, millet flour or other alternatives
You can make the graham crackers with wheat, in this case replace the gluten-free flours (the tapioca starch, sweet rice flour, and sorghum flour) with 2 ½ cups plus 2 tbsp of all-purpose wheat flour, or wheat pastry flour. Watch the wheat-based graham wafers very closely in the oven, as they bake faster than the gluten-free ones, about only 12 minutes.
For the Nanaimo bars (adapted from www.nanaimo.ca):
For the bottom layer:
1/2 cup (115 g; 4 oz) unsalted butter
1/4 cup (50 g; 1.8 oz) granulated sugar
5 tablespoons unsweetened cocoa
1/8 tsp salt
1 large egg, lightly beaten
1 1/4 cups (160 g; 5.6 oz) gluten free graham wafer crumbs (or just regular graham crumbs)
1/2 cup (55 g; 1.9 ounces) sliced almonds, lightly toasted (or ½ cup rice crispies for nut-free version)
1 cup (130 g; 4.5 ounces) unsweetened dry coconut, lightly toasted
For the middle layer:
1/2 cup (115 g; 4 oz) unsalted butter, at room temperature
2 tablespoons and 2 teaspoons whipping cream
2 tablespoons vanilla custard powder (such as Bird's, or vanilla pudding mix, or you can omit it altogether and add 1 tsp of pure vanilla extract to the mixture instead – more natural way and no less delicious)
2 cups (254 g; 8.9 oz) confectioners' sugar, sifted
1/8 tsp salt
For the top layer:
4 ounces (115 g) semi-sweet or bittersweet chocolate, finely chopped
2 tablespoons (28 g; 1 oz) unsalted butter
Preparation:
Make the bottom layer:
Line an 8 X 8-inch square baking pan with parchment paper, don't grease the paper. Set aside.
Place the unsalted butter, sugar, cocoa, and salt in a large heatproof bowl set in a wide skillet of barely simmering water and stir frequently until the butter is melted; do not overheat. Gradually whisk in the egg and continue whisking until the mixture is thickened and reaches 160F (to remove a raw-egg issue). Remove from the heat. Stir in the crumbs, nuts (or rice crispies) and coconut. Press firmly into the prepared 8 x 8-inch square pan. Refrigerate while making the middle layer.
Make the middle layer:
In a large bowl, beat the butter, cream, custard powder (if using), icing sugar, pure vanilla extract, and salt together well until light in color. Spread over the bottom layer. Refrigerate while making the chocolate glaze.
Make the top layer:
Place all the ingredients in a small heatproof bowl set in a wide skillet of barely simmering water and stir frequently until the chocolate and butter are almost completely melted; do not overheat. Remove the glaze from the water bath and set aside to finish melting, stirring once or twice until perfectly smooth. Cool the glaze to 88-90 F. Once cool, pour over the middle layer, tilt the pan to spread the glaze. Chill thoroughly before slicing.