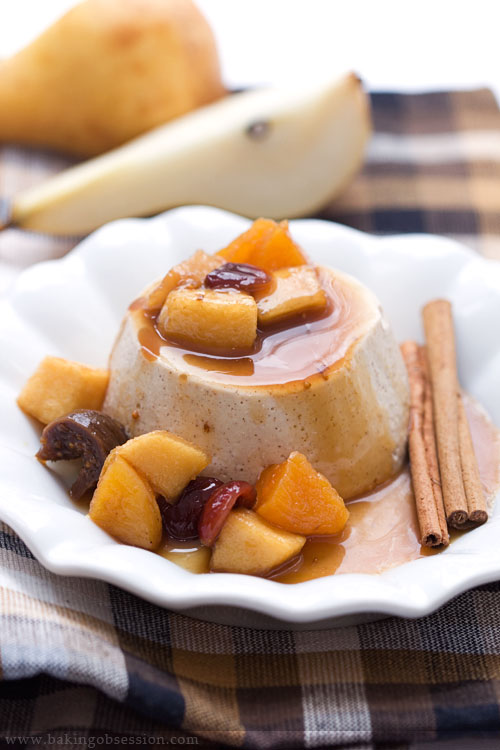 The recipe for the cinnamon panna cotta is adapted from Camilla V. Saulsbury's "Panna Cotta" book
which was brought to my attention by a publisher. Despite my skepticism towards the unmolded panna cotta in general, I have to admit that this recipe successfully achieves both – creamy texture and free-standing presentation. I didn't serve it with a sticky toffee sauce as per author's suggestion, but with spicy autumn fruit compote to cut down the richness a bit.
The book has a lot of interesting ideas, delicious flavor combinations and not only sweet, but savory as well. Just for the tease in light of the upcoming holidays – Chestnut Caramel, Pumpkin, Molasses, Five-Spice and Honey, Gingerbread Spice, and much more.
Makes 8 servings
For the panna cotta (adapted from Camilla V. Saulsbury):
2 tbsp pear brandy (or just brandy)
2 tsp unflavored gelatin
2 ½ cups whipping cream
½ cup firmly packed dark brown sugar
1/8 tsp salt
1 cup sour cream
1 ½ tsp pure vanilla extract
2 tsp ground cinnamon
For the compote:
2 cups pear nectar
¼ cup packed dark brown sugar
zest of 1 lemon removed in long strips (yellow part only)
2 cinnamon sticks broken in half
¼ tsp black peppercorns, cracked
4 cloves
1/8 tsp salt
2 ripe but firm medium pears, cut into cubes
2 medium baking apples, cubed
¼ cup chopped dried apricots
¼ cup chopped prunes
¼ cup chopped dried figs (any variety will do)
¼ cup dried cranberries
2 tbsp pear brandy (or regular brandy)
1 tbsp fresh lemon juice
Make the panna cotta:
Pour the brandy into a small bowl, sprinkle the gelatin over the brandy and let stand for about 5 minutes to soften the gelatin.
Meanwhile, place the cream, brown sugar, and salt into a heavy, medium saucepan. Heat over medium heat, stirring, until the sugar is dissolved and the mixture is hot. Add the softened gelatin, whisk to dissolve. Whisk in the sour cream, vanilla, and cinnamon until well-blended and smooth.
Ladle or transfer the mixture into a large liquid-measuring cup and pour into 8 ¾-cup custard cups, ramekins, or small molds. Loosely cover with plastic wrap and chill 4 hours or up to overnight.
To unmold, cut around edges of each panna cotta to loosen. Set each cup in a shallow bowl of hot (not boiling) water for 10 seconds. Immediately invert onto a plate. Spoon the slightly warm compote over or/and around each panna cotta and serve.
If you wish, you can skip the unmolding process, and serve the panna cotta right from the ramekins, topping it with the compote.
Make the compote:
In a large heavy saucepan combine the pear nectar, sugar, lemon zest, spices, and salt. Bring to a boil over medium heat, stirring, until the sugar is dissolved. Reduce the heat, add the fruits and simmer, stirring often, until the pears and apples are tender but still hold their shape and the dried fruits are plumped, about 5-8 minutes. With a slotted spoon transfer the poached fruits into a bowl; make sure the cloves are left behind.
Reduce the poaching liquid over high heat until it's syrupy and about half of its original volume, for about 15 minutes or so. Take off the heat, stir in the brandy and lemon juice, and then strain through a fine sieve right into the bowl with the poached fruits. Stir gently to combine. Cool until barely warm before spooning over the panna cotta. Or, cool completely, cover and refrigerate until needed. Warm it gently before serving.