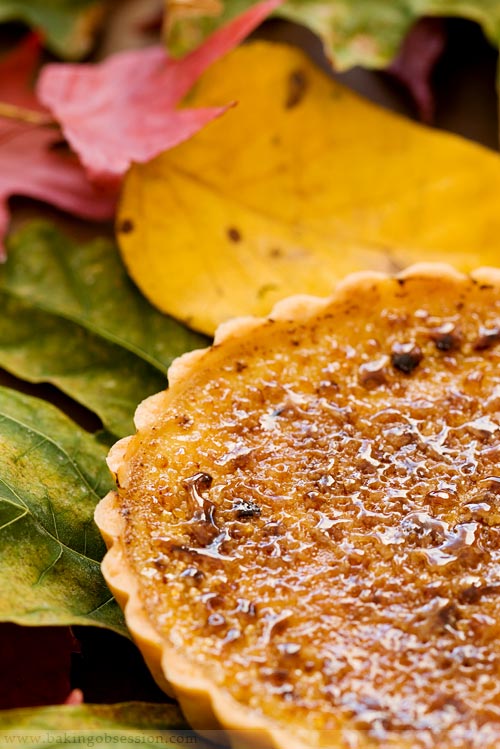 I don't like pumpkin pie, to put it mildly. I find the basic untweaked pumpkin filling quite horrid, not much better than canned pumpkin itself. I hope I'm not offending anyone. Maybe I am being weird.
The pumpkin concentration in this recipe is just right to my taste, as well as the silky smooth texture of the crème.
Makes 6 4-inch tarts
For the crusts: follow this recipe for making and prebaking the tart shells
For the filling:
4 large egg yolks
½ cup pure maple syrup
½ cup unsweetened pumpkin puree
½ tsp ground cinnamon
¼ tsp ground nutmeg
¼ tsp ground cardamom
¼ tsp salt
1 cup whipping cream
¼ cup whole milk
About ¼ cup Demerara sugar
Fill the tart shells, bake the tarts:
Reduce the oven temperature to 300F after prebaking the tart crusts.
Make sure the tart shells are cooled before filling.
In a medium bowl, whisk together the yolks and maple syrup until combined, followed by the pumpkin puree, spices, and salt. Gradually whisk in the cream and milk into the mixture; don't whip too much air into the custard base. Strain the custard through a fine mesh sieve into a liquid measuring cup. Place the cooled tart shells onto a baking sheet lined with parchment or silicone mat. Divide the custard between the prebaked tart shells filling them just a bit below the rim. Carefully transfer to the oven and bake for about 25 minutes, or until the filling appears softly set at the edges but still jiggles. Watch it baking; a minute too long and the texture will be grainy. Cool the tarts in the pan on a cooling rack. After completely cooled, refrigerate for 1 to 2 hours.
Right before serving, sprinkle the surface of each chilled custard tart with a scant 1 tbsp of Demerara sugar. Blow torch the sugar, following all necessary safety measures. Serve at once.