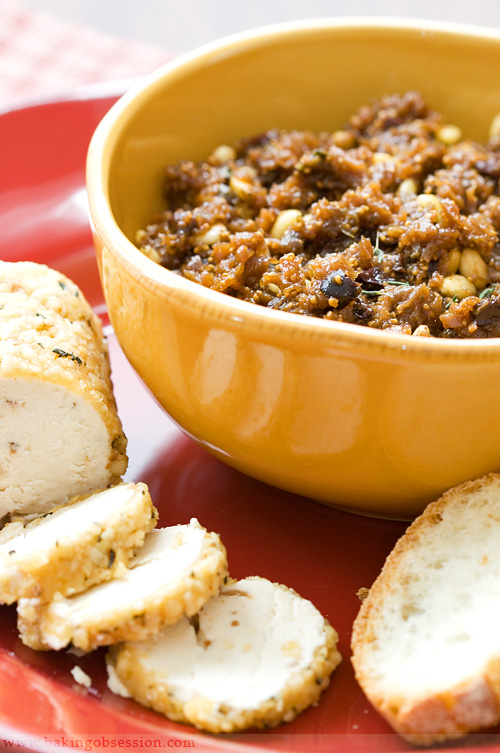 It doesn't involve any baking, and I don't think it can be considered as a dessert. But the whole combo is so good I'd readily take a pass on any pastry and have more of this instead.
The goat cheese I used was a mild unripened cheese with added figs as well (quite sweet but nice). I customized it a bit by coating the cheese with finely chopped toasted pine nuts and thyme. Freshly baked (better yet – homemade) bread is a must here.
Makes about 2 cups

Ingredients:
6 oz dried figs, stemmed and coarsely chopped
½ cup water
½ cup finely chopped pitted Kalamata olives
3 tbsp extra-virgin olive oil
1 ½ tbsp balsamic vinegar
2 tbsp capers, drained and chopped
2 tbsp chopped fresh thyme, divided
Salt and freshly ground black pepper
Scant 1 cup lightly toasted pine nuts, divided
2 6-oz logs soft fresh goat cheese
Fresh Artisan bread (good quality baguette will do) for serving
Preparation:
Combine the figs and water in a medium saucepan. Bring to a boil over medium-high heat, then reduce the heat to medium and cook the figs until the liquid evaporates and the figs are soft. Cool slightly, then transfer the mixture to the bowl of a food processor and pulse several times until the figs are finely chopped. Don't puree. Transfer to a bowl. Add the olives, oil, vinegar, capers, and 1 tbsp of thyme. Season the tapenade with salt and freshly ground pepper. It's even better to make the tapenade a couple of days in advance. Cover the bowl and refrigerate. Serve at room temperature. Right before serving, stir a scant ½ cup of toasted pine nuts into the tapenade.
Finely chop the remaining pine nuts. Add the remaining 1 tbsp of chopped thyme. Transfer the mixture to a shallow dish. Roll the goat cheese logs in this mixture, wrap in plastic and refrigerate until serving time. Bring to room temperature about 30 minutes before serving to soften and make it easier to spread.
Transfer the tapenade into a serving bowl and place the bowl onto a large platter or bread cutting board. Pile the sliced bread nearby. Unwrap the cheese and place on the same platter. Don't bother to preslice the cheese (it can't be done neatly); instead, offer a spreader for applying the cheese on the bread. Spread the cheese on the baguette slice, top with the tapenade and enjoy (it's very much enjoyable).