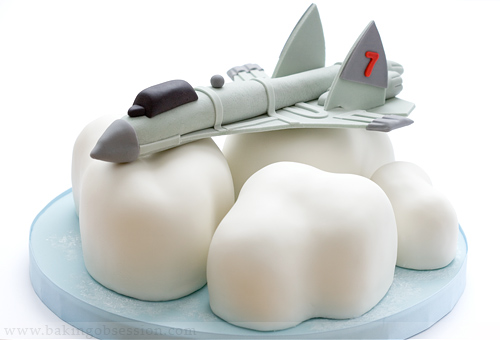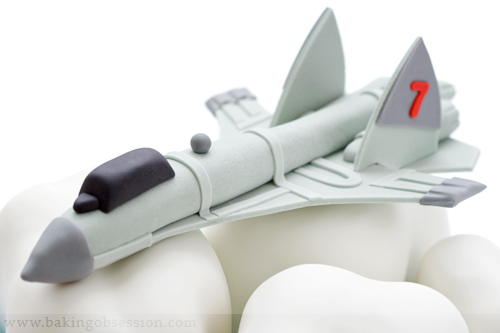 I can't believe my little baby has just turned seven! I guess he is not a baby anymore… It seems like he was two yesterday. We've been busy lately with all the planning and celebrating (that's why I'm not always here and a bit slow to respond; my apologies). There are more parties to come, more cakes to bake (smaller groups of kids are easier to control).
I borrowed this jet decorating idea from Lindy Smith – a well-known cake decorator. Technically, the whole thing is edible, including the jet. The last is made of pastillage and gum paste. As for the cake, I thought these clouds presented a great opportunity to bake two different cakes, so the kids could have a choice. I baked a chocolate-orange pound cake and a lemon one (pound cakes are easy to shape without excessive crumbling) in a loaf pan, cut the clouds out of them, then sliced each cloud into three layers. I filled the chocolate cake with a Sicilian orange marmalade, and the lemon one with an apricot jam. For the frosting, I made a batch of Swiss buttercream with a generous addition of fresh lemon juice, then divided the cream in half and added a bit of lemon oil into the first half (to frost the lemon-apricot clouds) and some orange oil into another half (for the chocolate-orange clouds).
The decorated cakes can be both fun and delicious (I mean the part that is under the fondant), and can have a far more interesting taste than most of the decorators suggest.