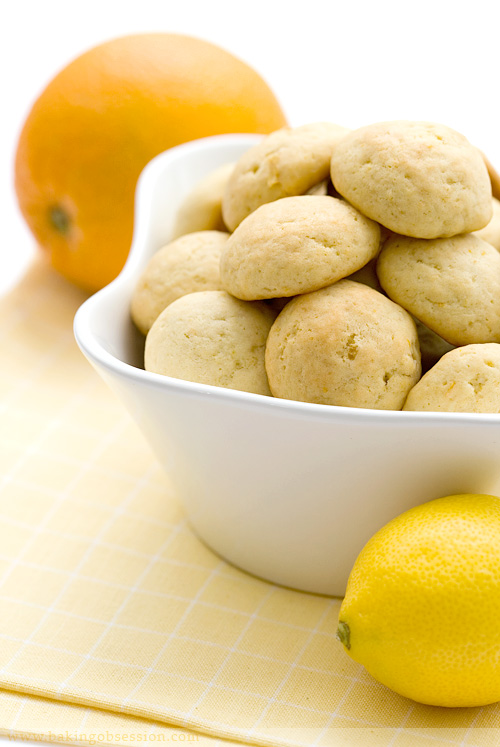 We are on spring break now. My son keeps me busy involving into his numerous plays and activities (that's a major disadvantage of having an only child). And although Tim loves his cookies readily available he is absolutely against me spending a lot of time (any time, to be correct) in the kitchen. So, this is a quick fix; my adaptation of Nick Malgieri's cookies. I wouldn't call them "terrific" as the author does (sorry…), I'd rather characterize them as "lovely". And they are lovely and very kids-friendly, cakey and tender, perfect with a glass of milk.
Makes about 60 cookies
Ingredients:
2 ½ cups all-purpose flour
½ tsp kosher salt
½ tsp baking soda
1 cup granulated sugar
Zest of 1 large lemon
Zest of 1 large orange
1 stick (8 tbsp/114g) unsalted butter, softened
1 ½ tsp pure vanilla extract
3/4 cup whole-milk ricotta, put through a sieve, at room temperature
¼ cup sour cream, at room temperature
1 large egg, at room temperature
2 large egg yolks, at room temperature
1/3 cup finely chopped candied lemon and orange peel (home-made preferred)
Preparation:
Center an oven rack and preheat the oven to 350F. Line a large cookie sheet with parchment paper or silicone mat. Put the lined baking sheet into another sheet to protect the bottoms of the cookies from overbrowning.
In a bowl, whisk together the all-purpose flour,  salt, and baking soda to combine. Set aside.
In a small bowl, combine the sugar and citrus zest. Rub with your fingertips to release the orange-lemon oil. Set aside for a moment.
In a large bowl, using an electric mixer, beat the butter until fluffy. Gradually beat in the sugar and continue mixing until light and well combined. Beat in the vanilla extract. Then beat in the ricotta and sour cream, mix well. Add the egg, then the egg yolks, one at a time, beating well after each addition. Add the dry ingredients and mix on the low speed just until the dough forms; finish mixing with a wooden spoon. Stir in the candied peel.
Using a small ice cream scoop (or just a tablespoon), drop small mounds (a scant tablespoon each) onto the prepared baking sheet spacing them 2 inches apart.
Bake the cookies, in batches, until they are very pale golden, for about 18 minutes. Cool the cookies on the sheet on a cooling rack for 10 minutes, then transfer them to the rack to cool completely.
The cookies are best the day they are made.