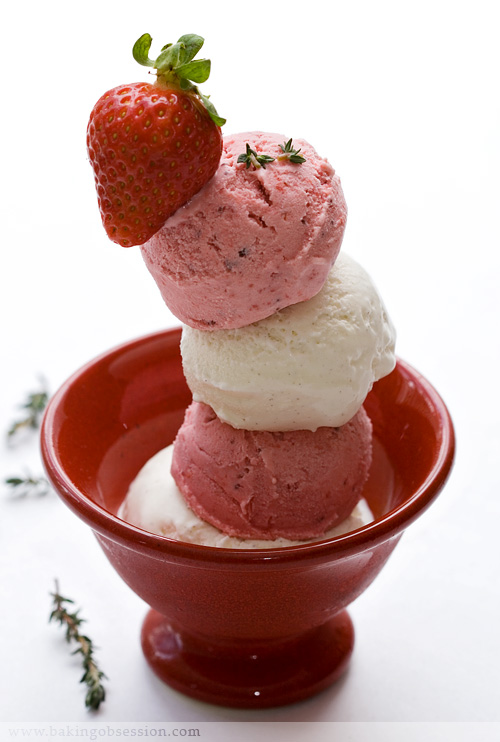 And here's the sherbet I mentioned earlier. It tastes fresh (despite the roasting) and feels creamy (despite the egg yolks absence). I've already blogged how much I'm in love with the roasted strawberries. The roasting can turn even grass-like tasting berries into the flavor-bursting ones. I highly recommend it when the strawberries are not in their season's peak and tasteless.
The sherbet is good on its own or paired with vanilla ice cream (everything goes well with vanilla).
Makes about a generous pint
For the sherbet:
1 lb strawberries, hulled
Scant ¼ cup light corn syrup
½ oz thyme sprigs
¼ cup fine granulated sugar
Zest of ½ lemon
1 tbsp lemon juice
1 tbsp Limoncello
¼ cup sour cream, cold
¾ cup whipping cream, cold
Make the sherbet:
Center an oven rack and preheat the oven to 300F.
Cut the strawberries in half or into quarters if the berries are very large. On a rimmed baking sheet, toss the strawberries with the corn syrup and thyme. Roast, stirring occasionally, until the color of the berries intensifies and darkens, and the syrup thickens, about 45 minutes to 1 hr. Remove from the oven, cool slightly and transfer to the bowl of the food processor leaving the thyme sprigs behind. Add the sugar, zest, lemon juice, and the liqueur. Process until smooth. Transfer to a bowl and cool. Cover and refrigerate until cold, at least for 2 hours.
Transfer the cold sour cream into a medium bowl, whisk to loosen it up. Gradually whisk in the chilled strawberry puree. Then whisk in the chilled whipping cream. Process the mixture in the ice cream maker.
Transfer into a freezer-safe container and place into the freezer to firm up, for 1 to 2 hours.
If you made the sherbet a day before, transfer it into the refrigerator about 20 minutes before serving to soften it slightly.