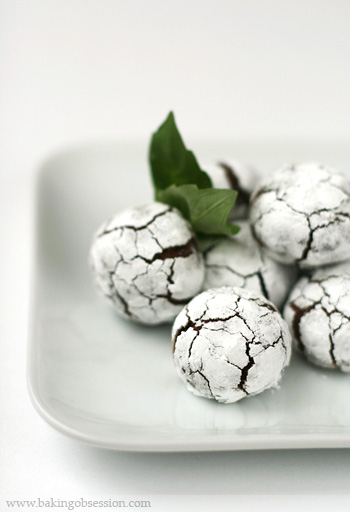 Basil pairs nicely with chocolate, well, at least in my opinion. The crinkles are not the only chocolate things I flavor with this herb. I like to flavor French chocolate ganache tart and pots de crème with basil, it is lovely. If you are not convinced, you can chose a different flavoring for the cookies. Go with mint, coffee, orange zest, cinnamon/cayenne – just to name a few. To ensure the cookies get their thin sugary crust and dramatic bright contrasting black-snowwhite appearance, they have to be rolled into granulated sugar first, and only then into icing sugar. This extra step will prevent the confectioners' sugar from melting which otherwise will produce an unpleasant yellowish build-up resembling a layer of fat on the surface of the overnight-refrigerated stew. When I'm not in a rush (unfortunately, it's not recently the case), I love to make the crinkles tiny, using a teaspoon for measuring the dough. They are so cute in this hazelnut size.
Makes about 4 dozens
Ingredients:
1 ½ cups all-purpose flour
¼ cup unsweetened Dutch processed cocoa
½ tsp baking powder
10 g basil leaves, roughly chopped
½ cup fine granulated sugar
7 oz bittersweet or semisweet chocolate, finely chopped
¾ stick (6 tbsp) unsalted butter
3 large eggs, lightly whisked
1 tsp pure vanilla extract
About ½ cup fine granulated sugar
About ½ cup confectioners' sugar
Preparation:
Sift the flour, cocoa powder, and baking powder together. Set aside.
Place the basil leaves and ½ cup granulated sugar in a bowl of the food processor (mini chopper works great) and process until the basil is very finely chopped. Set aside.
In a medium heavy bottom saucepan, combine the chocolate and butter. Heat over low heat, stirring constantly, until everything is melted. Remove from the burner and, using a hand-held electric beaters, mix in the basil-sugar mixture until well-combined and most of the sugar dissolves. Mix in the vanilla extract. Dribble the eggs, little by little, while still mixing on medium speed. Add the sifted dry ingredients and mix on low speed until combined. Cover the bowl with plastic wrap and refrigerate for at least two hours before shaping.
Center an oven rack and preheat the oven to 350F. Cover a large baking sheet with parchment paper or a silicone mat.
Place ½ cup of granulated sugar into one shallow bowl, and confectioners' sugar – into another.
Shape about a scant tablespoon of dough into a 1-inch ball (a small ice-cream scoop really helps to achieve a uniform size). Continue with the rest of the dough. Wash and dry your hands. Drop several balls into the granulated sugar and roll them to coat. Transfer the balls into the icing sugar and roll again to coat well. Place onto the prepared baking sheet leaving about 1-inch space around the cookies. As soon as the baking sheet is filled with cookies slide it into the oven. Bake for about 11 minutes, until the cookies are puffed and crackly. Transfer onto a cooling rack, let them cool for a couple of minutes, then, with an offset spatula, carefully transfer onto the cooling rack to cool completely. As soon as you are ready to bake another batch (your baking sheet is cooled and relined) continue to coat the balls in the granulated and icing sugar, then bake.
The cookies can be kept in an air-tight container for 2 to 3 days. Although, I think they are the best the day they are made.