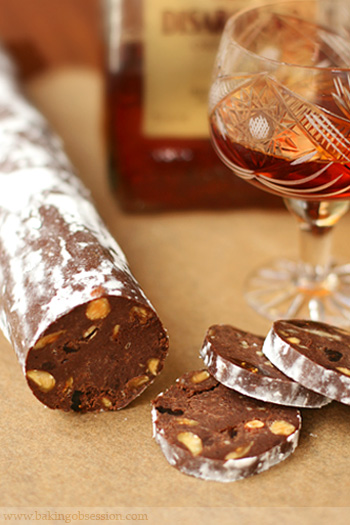 Everyone who bakes regularly once in a while faces a problem of utilizing cake scraps after leveling layers, or/and some chocolate ganache-glaze leftovers. The most efficient and easiest way to get rid of them all at once is to make the dolce salami. This is not a classic Italian recipe required egg yolks but it makes no less delicious salami. The formed log can be popped in the freezer and kept there well for about a month guarantying you always have something for your unexpected guests (don't we all love them). There's no need to defrost the salami before serving; it doesn't freeze rock-hard and softens fairly quickly at room temperature. Cut it into slices with a sharp knife, put a kettle on and, by the time it boils, the salami will be good to go.
The ingredients below are mostly for a reference. Feel free to substitute for different nuts, fruits, and flavorings suiting your own taste.
Makes 1 about 18-inch long log, which is about 4-5 dozen slices
Ingredients:
1 lb cake scraps (any will do, but chocolate preferred; you can also replace part of the cake crumbs with cookie crumbs if you want to get rid of these, too)
2 oz soft mission figs, roughly chopped
2 oz soft kadota figs, roughly chopped
4 oz toasted coarsely chopped almonds
4 oz toasted coarsely chopped hazelnuts
½ tsp kosher salt
1 lb bittersweet chocolate ganache
2 tbsp Amaretto Disaronno
1 tsp pure vanilla extract
¼ tsp pure almond extract
Preparation:
In a bowl of the food processor, pulse the cake scraps several times until fine crumbs form. Transfer into a large bowl. Add the chopped fruits, nuts, and salt. Mix well with a fork.
Remelt the ganache. Place a block of ganache into a heat proof bowl set in a wide skillet of barely simmering water and stir frequently until the chocolate is melted; do not overheat. Remove the ganache from the water bath, add the liquor and extracts, and pour over the cake crumbs mixture. Stir well with a fork until thoroughly combined. Cover the bowl with plastic wrap and place into the refrigerator to firm up before shaping, for a couple of hours.
Cover a working surface with plastic wrap or parchment paper with a long side parallel to you. Scrape the chocolate mixture out of the bowl and, with a help of the plastic wrap or parchment, shape into a round log, about 2-inches in diameter, wrap into the plastic or parchment. At this point, the salami is very soft. Place the shaped salami inside a cardboard cylinder (you can reuse the core of a wrapping paper roll) and slide into the freezer. It can be kept there for a month. Right before serving, dust the salami log with icing sugar to resemble cured salami. Or dust it with unsweetened cocoa powder.
If you don't have any leftover ganache, you can freshly make it by heating 1 cup of whipping cream just below a boiling point and then pouring the cream over 8 oz finely chopped bittersweet chocolate. Let the mixture sit undisturbed for a couple of minutes, then gently stir until smooth. Proceed with the recipe.
Wrapped in parchment, and then in a pretty holiday paper the salami makes a nice gift.