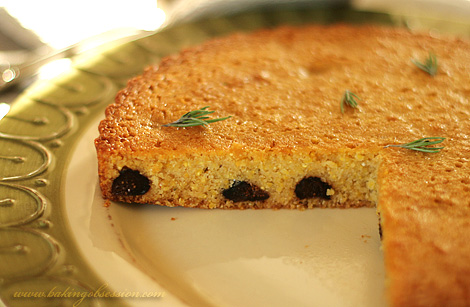 I'm totally in love with Italian sweets. I think there's more style and elegance in their simplicity than in multi-layered pompous gâteaux. And the flavors of Italian dolce have a tendency to far exceed our expectations. This cake is a good example. Try it with espresso and you'll be hooked.
The recipe is Dorie Greenspan's with some alterations according to my own taste.
Makes one 11-inch or 10-inch round cake, about 10-12 servings
Ingredients:
About 16 moist, plump dried Mission figs, stemmed
1 cup medium-grain yellow cornmeal
½ cup all-purpose flour
1 tsp baking powder
½ tsp Kosher salt
1 cup ricotta, put through a sieve
1/3 cup tepid water
½ cup sugar
Zest of 1 lemon
2/3 cup honey
1 stick unsalted butter, melted and cooled
2 large eggs
1 heaped tsp of finely chopped fresh rosemary
Preparation:
Center a rack in the oven and preheat the oven to 325 F. Butter an 11-inch or 10-inch round fluted tart pan with a removable bottom and put it on a baking sheet lined with parchment.
If the figs are the least bit hard, cover them with water in a small saucepan, bring to a boil, then drain and pat dry. If the figs are large, snip them in half.
Whisk the cornmeal, flour, baking powder and salt together. Set aside.
In a small bowl, rub the sugar and lemon zest with your fingers. Set aside.
In a large bowl, using electric beaters, beat the ricotta and water together on low speed until very smooth. Add the sugar and honey and beat on medium speed until light. Beat in the melted butter, then eggs one at a time, beating until the mixture is smooth. Reduce the mixer speed to low and add the dry ingredients, mixing only until they are fully incorporated. You will have a sleek, smooth, pourable batter.
Pour about one third of the batter into the pan and scatter over the figs. Sprinkle the rosemary over the figs. Pour in the rest of the batter, smooth the top with a rubber spatula.
Bake for about 40-45 minutes, or until a tester comes out clean. The cake should be honey brown and pulling away just a little from the sides of the pan. Transfer the cake to a rack to cool and remove the sides of the pan after about 5 minutes. Cool to warm, or cool completely.
Wrapped in plastic, the cake will keep for about 5 days at room temperature. It will be even better the next day. The cake can be frozen for up to 2 months.