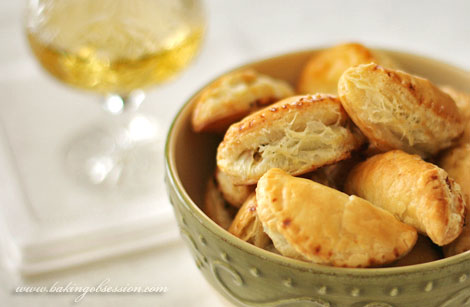 These little appetizers are not made from traditional empanada dough. It's probably their shape is responsible for the name. You can use either a store-bought or home-made puff pastry. For filling, buy good quality canned tuna packed in olive oil. Don't try to use the tasteless water-packed one. Once again: you get what you pay for.
Makes about 50
Ingredients:
1 (6-oz) can light tuna in olive oil (not drained)
½

cup finely chopped onion
½

cup finely chopped pimiento-stuffed green olives (3 oz, drained)
2 tablespoons drained capers, rinsed and chopped

¼

cup finely chopped fresh Italian parsley
Freshly ground black pepper
Salt (if necessary)
1 (17 1/4-oz) package frozen puff pastry sheets, thawed or home-made puff pastry
1 egg, beaten, for egg wash
Special equipment: a 2 1/4-inch round cookie cutter
Preparation:
Preheat the oven to 400°F. Line a large baking sheet with parchment paper or silicone mat.
Pour the oil from the tuna into a medium skillet. Heat the oil over medium heat. Add the onion to the skillet and cook over moderate heat, stirring occasionally, until softened and light golden in color.
Mash the tuna in a bowl with a fork, then stir in the onion, olives, and capers. Season generously with pepper. Taste. Add the salt, if you want. But the mixture will probably be salty enough without any additional salt.
Roll out one pastry sheet on a lightly floured surface with a lightly floured rolling pin into a ¼-inch thick square. Cut out as many rounds as you can with the floured cookie cutter.
Put a scant teaspoon of tuna mixture in the center of each round. Hold the filled round in the palm of your hand, then moisten the edge (half circle only) with the egg wash. Cup the hand, then fold the dough over to form a half-moon, pinching edges to seal (this creates a border for crimping). Crimp the edge with a floured fork to secure the seal. Form more empanaditas with the remaining rounds. Transfer to the prepared sheet. Refrigerate until the pastries are firm. You can make the empanaditas several hours in advance and keep them refrigerated, bake right before serving. Or you can freeze them at this point up to a week. Freeze in a single layer on the sheet, then transfer to sealed plastic bags or air-tight containers and keep frozen. Bake frozen empanaditas about 30 minutes.
When you are ready to bake, center an oven rack and preheat the oven to 400°F.
Brush the pastries with the egg wash avoiding excessive dripping. Bake until puffed and golden, about 20-25 minutes. Cool the empanaditas on the baking sheet on a rack about 10 minutes. Serve warm.