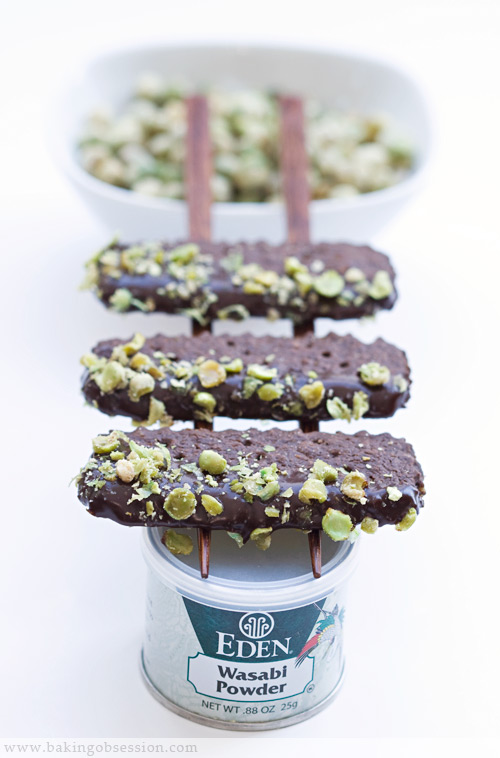 Spicy, salty, chocolaty sweet, delicately sandy, but also crunchy… In other words – delicious cookies. I've already blogged about my love to this flavor combo. Spicy wasabi ganache I dipped the shortbread in is exactly the same one I used to fill my macarons. I went a bit further this time and added wasabi peas into the cookie dough, as well as sprinkled them over the ganache glaze.
Makes about 4 dozen 3-inch cookies
Ingredients:
2 sticks (8 oz) unsalted butter, at room temperature (but not too soft)
½ cup fine granulated sugar
¼ cup packed light brown sugar
1 tsp pure vanilla extract
1 ½ cups all-purpose flour
½ cup unsweetened cocoa powder
¼ cup cornflour
½ tsp salt
½ cup wasabi peas, coarsely chopped
½ cup wasabi peas, coarsley chopped, for sprinkling
Preparation:
Sift together the flour, cocoa powder, cornstarch, and salt.
Using an electric mixer, beat the butter until smooth, then gradually beat in the both sugars, and vanilla extract. Reduce the speed and gradually beat in the flour mixture mixing until combined (don't overbeat). Stir in ½ cup wasabi peas. Divide the dough in halves. Flatten each dough portion into 1/2-inch rectangle. Wrap in plastic and refrigerate for at least 2 hours and up to three days.
When ready to bake, center the oven rack and preheat the oven to 325F. Line two large baking sheets with parchment or silicone mats. On a flour-dusted or parchment-lined working surface, roll the dough (one portion at a time) to scant 1/4-inch thickness. If necessary, let the dough soften slightly before rolling. Using a cookie cutter dipped in some flour, cut out the rectangles (or rounds, or other shapes) pressing the cookie cutter hard down through the wasabi peas. If the dough becomes sticky and difficult to work with, chill it for 10-15 minutes. Transfer the cut-out cookies onto the prepared baking sheets spacing them 1-inch apart. Freeze for 20 minutes before baking. Reroll the scraps (these won't be as good and tender as the first ones though). Bake, one batch at a time, for about 20 minutes, until set and look dull. Cool on a cooling rack on the sheet.
Make the ganache, cool to 88-90F. Dip each cookie into the chocolate glaze, sprinkle with the remaining wasabi peas. Refrigerate to set the ganache. Store in an air-tight container in a cool place for up to a week.