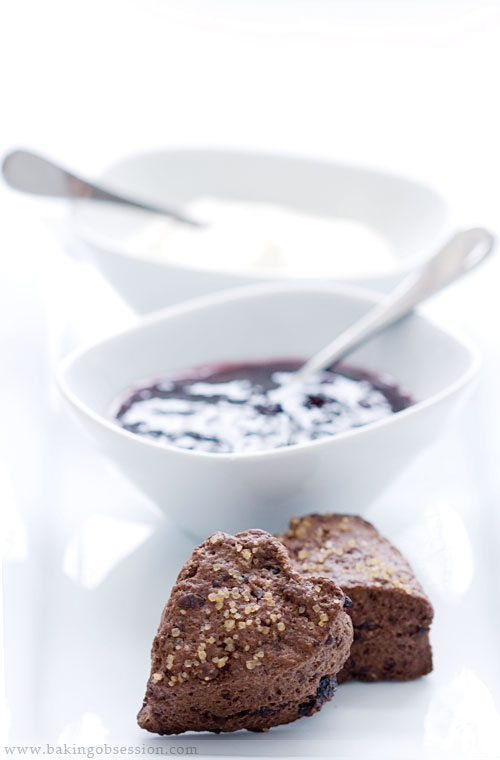 These chubby hearts, bumpy with chocolate and dry cherries, although very suitable for Valentines Day breakfast in bed, were made for my poor kiddo who had to stay at home with sore throat and missed all Valentines Day fun in school. I noticed his throat didn't bother him much while he was downing the scones; I guess they made him feel better.
Happy Valentines Day, everyone!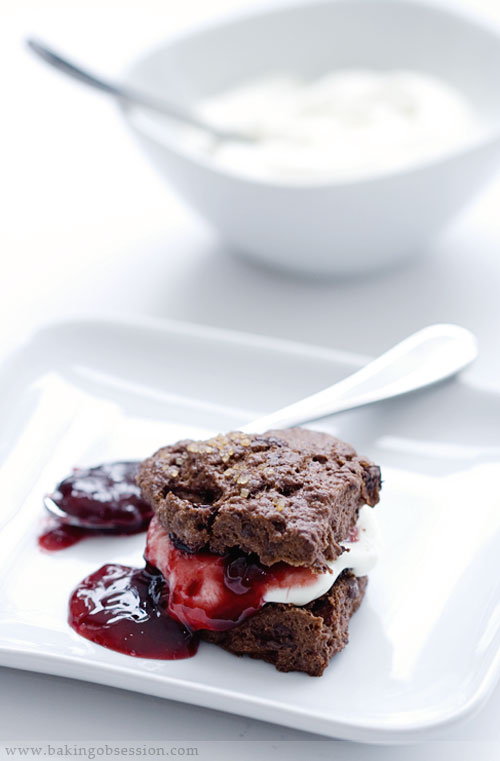 Makes about a dozen scones
Ingredients:
2 cups all-purpose flour
½ cup Dutch-processed unsweetened cocoa powder
½ cup granulated sugar
2 ½ tsp baking powder
½ tsp kosher salt
4 tbsp (2 oz) cold unsalted butter, cut into ½-inch cubes
½ cup plump dry cherries (if you have even the slightest doubt about cherries' plumpness, rehydrate them in hot water, drain and add a bit of kirsch), cut into raisin-size pieces
2 oz bittersweet or semisweet chocolate, finely chopped
1 cup whipping cream, cold
1 tsp pure vanilla extract
About 2 tbsp whipping cream for brushing
About 1 tbsp raw coarse sugar (demerara) for sprinkling (or, you can skip the sugar and, after the scones are baked and cooled, drizzle some melted chocolate over their tops)
Crème fraiche for serving (or as an alternative, whip 1 cup of whipping cream with 2 tbsp of sour cream, 1 tbsp granulated sugar, 1 tbsp kirsch and ½ tsp pure vanilla extract)
Good quality cherry preserves for serving (French "Bonne Maman" cherry jam is very nice and available almost everywhere)
Preparation:
Center an oven rack and preheat the oven to 425F. Line a baking sheet with parchment or a silicone mat. Place this baking sheet onto another one to protect the bottom of the scones from overbaking. Set aside.
Over a large bowl, sift the flour, cocoa powder, sugar, baking powder, and salt. Add the butter pieces into the bowl and, using a pastry blender or your fingers, cut the butter into the mixture until it is evenly distributed and no large pieces of butter are visible. Add the cherries and chocolate, mix to combine. Combine the whipping cream and vanilla extract in a glass measuring cup, whisk. Add to the dry ingredients and stir with a fork until the dough comes together. If the dough seems too dry to you, add up to 2 tbsp of whipping cream, adding it gradually; too much liquid will cause the scones to spread in the oven, and you don't want it, especially if you are making heart-shaped ones.
Transfer the dough from the bowl onto a lightly floured surface or parchment paper (I don't like to use flour with the chocolate dough, so I prefer the parchment). Knead the dough lightly, folding and flattening it several times. Pat (or roll) the dough into a disk, approximately ½ – inch thick. Using a heart-shaped or round biscuit cutter (about 2–2 ½ -inch in diameter), dipped in flour to prevent sticking, cut as many scones as you can. Do not twist the cutter, just press it down firmly. You can gather the scraps (but don't overwork the dough) and reroll once. Although, the best scones are the ones from the first batch. Transfer the scones onto the prepared baking sheet. Brush the tops with the remaining 2 tbsp of the cream, sprinkle the demerara sugar over the tops.
Bake the scones for about 14-15 minutes, until well risen and the bottoms are browned. Cool the scones on the baking sheet on a rack for several minutes, then transfer to the rack to cool until slightly warm. Split the scones in half, fill generously with the crème fraiche and cherry jam, and serve.
The scones can be formed in advance and frozen unbaked. Bake without defrosting; just add a few minutes to the baking time.