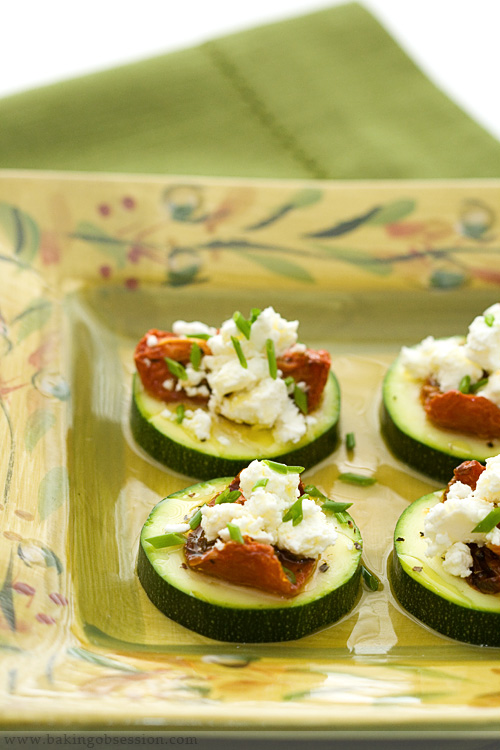 I seldom consume a large meal myself. I'm more sort of a bite-size finger-food lover. And these zucchini things are among my new favorites; the simplest but yet so flavorful.
Adapted from Gale Gand.
Makes 24 appetizers, about 8-10 servings
Ingredients:
6 plum tomatoes
¼ cup extra-virgin olive oil
2 tsp herbes de Provence
Scant ½ tsp kosher salt
¼ tsp freshly ground black pepper
2 medium zucchini
Salt and freshly ground black pepper
3 oz fresh soft goat cheese
About 2 tbsp chopped fresh chives
About 2 tbsp extra-virgin olive oil
Preparation:
Heat the oven to 325F. Line a baking sheet with aluminum foil, lightly oil the foil.
Cut the tomatoes into quarters lengthwise. Lay them on a baking sheet (cut side up), drizzle with the olive oil, and sprinkle with the herbes de Provence, salt, and pepper. Roast in the oven for about 2 hours, until the tomatoes are dried and wrinkled and their edges look lightly toasted. Check occasionally to make sure the edges aren't getting too brown. If they are, turn the oven temperature down to 300F.
Use immediately, or store in an airtight container and refrigerate for up to 4 days. Let the tomatoes come to room temperature before serving.
Slice the zucchini into ¼-inch rounds and lay them on a platter. Sprinkle them with a little salt and pepper. Place 1 piece of roasted tomato on each zucchini slice. Pinch a bit of goat cheese on top of each tomato piece. Sprinkle with the chopped chives, drizzle with the olive oil, and serve.