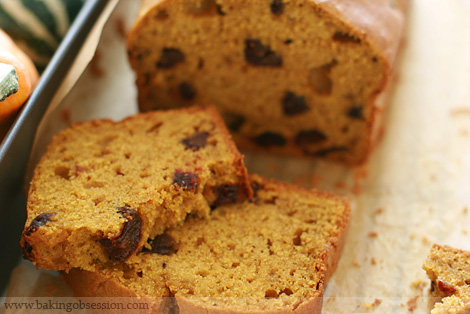 There are pumpkins everywhere, in all possible shapes and sizes. Aroma of autumn spices invades the kitchens. And even if this is not my favorite season (please, don't throw anything in my head :), I do love this comfy smell, and the taste of a moist spicy pumpkin loaf. Speaking of spices, I love 5-spice powder here. In addition to the traditional set of autumn spices (cinnamon, cloves, and ginger) it also contains star anise and Szechuan pepper which adds some warmth. If you wish you can use a homemade pumpkin puree but I went with the store-bought this time. I usually make my puree a bit later, after the Halloween, putting all these poor organic Jack O'Lanterns to a good use.
Anita from the Dessert First is hosting this month SHF theme "Spices", and there it goes.
Makes one 9×5-inch loaf
Ingredients:
1 ¾ cups all-purpose flour
1 tsp baking powder
½ tsp baking soda
½ tsp salt
1 tsp Chinese 5-spice powder
½ tsp cinnamon
½ tsp freshly ground nutmeg
Zest of ½ medium orange (don't use too much zest, there's just a hint needed)
½ cup granulated sugar
½ cup packed light brown sugar
1 ¼ cups pumpkin puree (not a pumpkin pie filling)
1/3 cup vegetable oil
2 large eggs, lightly whisked
½ tsp vanilla extract
1 cup roughly chopped moist dates (I always use Medjool), lightly dusted with a pinch of flour, pieces separated
Preparation:
Center an oven rack and preheat the oven to 350F. Lightly grease a 9 x 5-inch loaf pan and line the bottom of the pan with parchment. Set aside.
In a large bowl, whisk together the flour, baking powder, baking soda, salt, and spices. Set aside.
In another bowl, combine the granulated sugar, brown sugar, and orange zest. Rub with your fingertips to release the orange oil. Add the pumpkin puree, vegetable oil, eggs, and vanilla extract. Whisk well to combine. Then whisk into the flour mixture. Switch to a rubber spatula and fold the dates into the batter. Transfer the mixture into the prepared loaf pan, place the pan onto a baking sheet and slide into the oven. Bake for about 1 hour, until the top of the loaf is brown and a cake tester inserted in the center comes out clean.