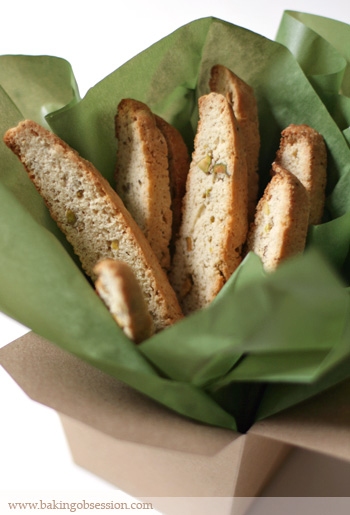 These poor things were baked to be crushed into biscotti crumbs needed for executing another dessert (getting ahead of the story: which is delicious and being posted later :). But I liked the outcome enough to give them their own life, they do deserve it. The biscotti are better the next day (yes, I don't like this fact as, probably, most of you, but it is what it is…). The flavor ripens and becomes more interesting, anise gets more pronounced.
Adapted from Sherry Yard
Makes about 1 ½ dozens
Ingredients:
1 1/3 cups + 1 tbsp all-purpose flour
¾ tsp baking powder
¼ tsp salt
2 tbsp unsalted butter, softened
½ cup sugar
1 ½ tsp crushed aniseed
1 large egg
1 tbsp fresh lemon juice
1 ½ tsp dark rum
2 tbsp Marsala
¼ cup coarsely chopped salted pistachios
Preparation:
Center an oven rack and preheat to 350F. Line a large baking sheet with parchment paper or a silicone baking mat.
Sift together the flour, baking powder, and salt. Set aside.
In a large bowl, with electric beaters on medium speed, cream together the butter, sugar, and crushed aniseed for 2 minutes. Scrape down the sides of the bowl and beat for another 2 minutes. Add the egg and beat for 1 minute more. Scrape down the sides of the bowl. Add the lemon juice and rum and blend until incorporated.
Mix in the flour mixture in three additions alternating with the Marsala wine in two additions, starting and finishing with the flour. Add the pistachios and mix until incorporated. The dough will be very tacky.
I believe the best way to form a biscotti log is shaping it without adding any additional flour (too much flour mixed in will result in tough biscotti). Put your hands under cool water and then reach into the bottom of the bowl taking the dough off the bowl and onto the prepared baking sheet. Wet your hand again if necessary to prevent sticking and form the dough into 3-x-10-inch log. Bake for 20 minutes. Rotate the pan from front to back and continue to bake for another 10 to 15 minutes, until the log is puffed and golden brown; a tester inserted in the center should come out clean.
Cool the log on the baking sheet on a cooling rack. Reduce the oven temperature to 325F. Transfer the log onto a cutting board. Using a sharp serrated knife cut the log on the diagonal into about 2/3-inch-thick slices. Stand the slices upright on the baking sheet leaving a little bit of space in between. Bake the biscotti for 10 minutes. Rotate the baking sheet from front to back and bake for another 10-15 minutes, until the biscotti are hard. Remove from the oven and allow to cool on the rack. They will become crispier as they cool. The biscotti will keep for 2 weeks in an airtight container at room temperature.