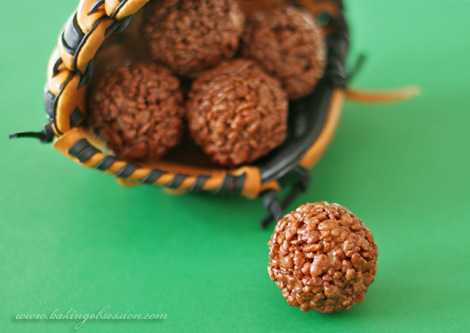 …by François Payard. I love French chefs' approach to traditional American desserts. They usually transform them into something quite stylish. I made these rice crispy balls to take to my son's kindergarten year-end picnic. I wanted something relatively weather-resistant and this recipe seemed appropriate. Besides, haven't you ever experienced a painful disappointment from bringing a stunning dessert to the youngsters' class, and later taking it back almost intact because someone brought the lollypops preferred by everyone, and the teeth-rotting candies occupied the kids' mouths the whole party. I've smarten up over time. Now I make things to suit the sophisticated palates of regular kids, who've grown on store-bought cupcakes generously covered with fluorescent frosting screaming: "I'm so artificial!". The balls were very popular, none had been left. Though, it was not because they resembled these cupcakes mentioned above. They were simple and looked familiar: that's what had caused the success.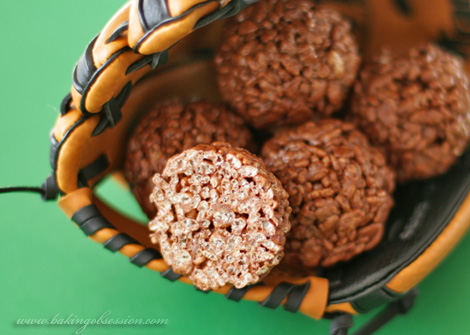 Makes about 44 golf-size (1.68-inch – I checked on the internet :) balls
Ingredients:
8 tbsp (4 oz, 120 g) unsalted butter

1/3 cup (32 g) Dutch-processed cocoa powder

Two 10-oz bags (565g) mini marshmallows

10 cups (300 g) crisp rice cereal

¾ cup (150 g) semisweet mini chocolate chips
Preparations:
Combine the butter and cocoa powder in a large saucepan over medium-high heat. Let the butter melt, and stir so that the mixture is well combined. Add the marshmallows and let them melt completely.
Remove the pan from the heat and stir in the rice cereal. When it is well coated in the marshmallow mixture, stir in half the chocolate chips. Let the mixture cool for about 5 minutes, then stir in the remaining chocolate chips. Let cool to room temperature.
Oil your hands, and shape some of the cereal mixture into a ball the size of a golf ball (1.68-inch, to be exact). Using an ice cream scoop for measuring helps to achieve the uniform size of the balls. Place the ball on a baking sheet, and repeat with the remaining mixture. Let the balls set, then store them in an air-tight container in a dry, cool environment for up to 3 days. Do not refrigerate them, or they will harden.