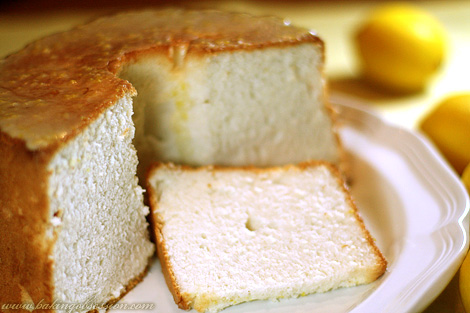 We love home-made ice-cream, so I'm always in a search for the recipes utilizing left over egg whites. This cake fits the bill since the recipe calls for 14 egg whites. The cake is good on its own. But its high absorbency makes it ideal for layered desserts like trifles.
Thanks again to Lori Longbotham for the great recipe.
For the cake:
1 cup cake flour, sifted
¾ cup confectioners' sugar
14 large egg whites at room temperature
1 ½ tsp cream of tartar
¼ tsp salt
¾ cup granulated sugar
2 tsp pure vanilla extract
1 tsp pure lemon oil (not a lemon extract)
For a lemon glaze:
1 cup confectioners' sugar
2 tbsp or less lemon juice
1 ½ tsp finely grated lemon zest
Pinch of salt
Make the cake:
Position a rack in the middle of the oven and preheat the oven to 375 F. Have ready an ungreased 10-inch tube pan.
Sift the flour and the confectioners' sugar together into a medium bowl.
Beat the egg whites with an electric mixer on medium speed in a large bowl until foamy. Increase the speed to medium-high, add the cream of tartar and salt, and beat just until soft peaks are formed. Add the granulated sugar, about 1 tbsp at a time, beating well after each addition, and beat just until the whites form stiff peaks. Add the vanilla and lemon oil and beat until well combined.
Sift one quarter of the flour mixture over the egg whites and fold in with a whisk or a rubber spatula. Continue gently folding, one quarter at a time, until all the flour mixture has been added, being careful not to overmix.
Transfer the batter to the pan. Run a table knife through the batter to remove any large air pockets, and smooth the top with a rubber spatula. Bake for 35 to 40 minutes, until the top is golden brown and the cake pulls away from the side of the pan. Turn the pan upside down, and balance it on its pan legs (if it has them), or hang the tube pan upside down on the neck of a tall bottle. Let cool to room temperature.
Turn the pan right side up. Run a knife around the outside edge of the cake and between the cake and the tube. Top the cake with a flat plate, invert it, give a sharp down-ward rap to the pan to dislodge the cake, and lift off the pan. If the pan bottom is removable, slide a knife between the pan bottom and the cake to release it.
Make the glaze:
Stir the glaze ingredients in a small bowl, starting with 1 ½ tbsp of the lemon juice.
Pour the glaze over the cake.
Use a sharp serrated knife to cut the cake into wedges. The cake will keep, wrapped, for 3 days at room temperature and for 2 weeks in the freezer.