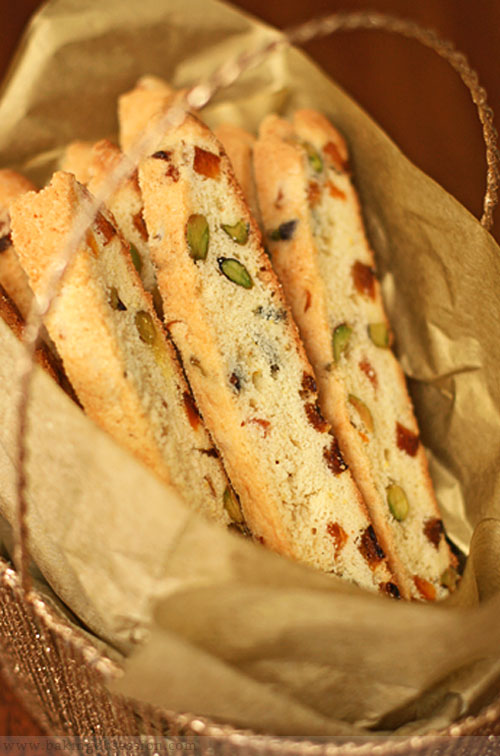 I wish I had more time to bake for my own family and friends this holiday season. I've been so busy lately. Biscotti of different kinds are always on my "to-bake" list around Christmas time. They keep well and make a nice gift.
I wish all my readers and fellow-bloggers the Merriest Christmas and Happy Holiday! And thank you very much for your kind comments and warm wishes!
Makes about 2 dozens perfect-looking plus a few more not-so-attractive
Ingredients:
1 cup granulated sugar
Zest of 1 medium orange
2 cups all-purpose flour
1 ¼ tsp baking powder
½ tsp kosher salt
1 stick (4 oz) unsalted butter, at room temperature
1 tsp orange flower water
1 tsp pure vanilla extract
2 large eggs
4 oz (about 1 cup) pistachio nuts (can be salted)
5 oz (about 1 cup) chopped dry apricots
Preparation:
Center the oven rack. Preheat the oven to 350 F. Line a large baking sheet with a parchment paper or silicon mat.
Rub the sugar and orange zest in a small bowl until the sugar gets moist and aromatic.
Sift together the flour, baking powder, and salt into a medium bowl.
Beat the butter and the sugar mixture in a medium bowl with an electric mixer until fluffy. Beat in the orange flower water and vanilla extract. Add the eggs, one at a time, beating well after each addition. Reduce the speed to low, add the flour mixture and beat just until combined. Stir in the pistachios and chopped apricots with a wooden spoon or rubber spatula.
Halve the dough and place both portions on the prepared baking sheet. Form each piece into a 10-inch long log, and place them at least 3 inches apart. Smooth and slightly flatten the logs with the dampened fingers.
Bake for about 25 minutes, or until the logs are golden brown and firm to the touch. Cool on the baking sheet on a wire rack for 10 minutes. Reduce the oven temperature to 325 F. Transfer the logs to a cutting board and with a sharp serrated knife, cut each log into ½-inch slices. Arrange the slices standing them on their bottoms on the same baking sheet and return to the oven for about 15 minutes, until crisp. Cool completely on the wire rack.
Store in an air-tight container for up to a week.