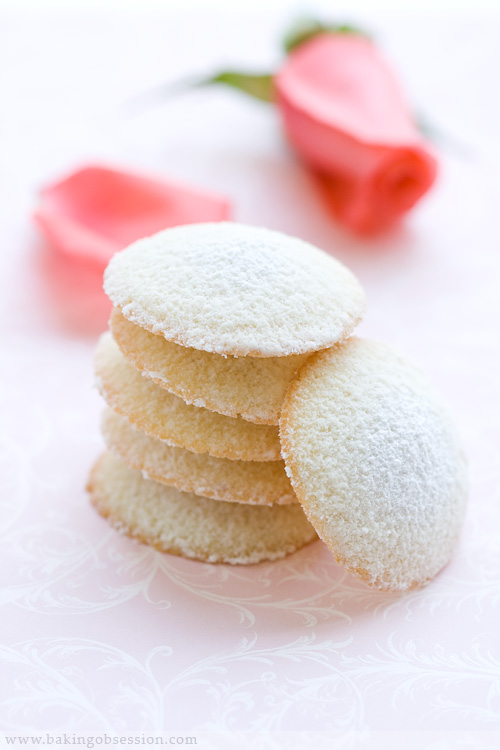 Tender and delicate, very subtly flavored with rose water, the cookies are destined not just for tea time. They are pretty good with coffee too, as well as without any beverage whatsoever.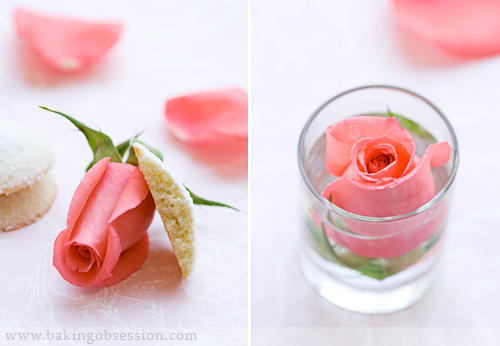 Adapted from Sherry Yard
This is my submission to Jugalbandi's CLICK "Stacks" event.
Makes about 2 dozens
Ingredients:
¾ cup all-purpose flour
¼ cup almond meal
3 oz unsalted butter, at room temperature
¾ cup powdered sugar, sifted
¼ tsp salt
½ tsp pure vanilla extract
1 tbsp rose water
1 large egg, at room temperature
About 1/3 cup powdered sugar, sifted for dusting
Preparation:
Sift together the flour and almond meal into a small bowl and set aside.
In a medium bowl, using an electric mixer, cream the butter until pale yellow, about 2 minutes. Add the powdered sugar, salt, vanilla, and rose water. Cream on medium speed until the mixture is smooth, about 1 minute. Add the egg and beat on low speed for 15 seconds, until fully incorporated. Do not overbeat. On low speed, add the flour mixture. Mix until just incorporated. Wrap the dough in plastic and refrigerate for at least 30 minutes. At this point, the dough will keep nicely, tightly wrapped, in the refrigerator for up to 1 week or in the freezer for up to 1 month. (Thaw frozen dough at room temperature for about 30 minutes, or until you can pinch off pieces.)
Position an oven rack in the lower third of the oven. Preheat the oven to 350F. Line a large baking sheet with parchment or silicone mat.
Flour your hands. Pinch off pieces of dough and roll them into 1-inch balls. Place the balls about 1 inch apart on the prepared baking sheet. Continue to flour your hands as needed to prevent the dough from sticking. Bake the cookies for about 12 to 15 minutes, or until light golden around the edges.
As soon as you remove the cookies from the oven, cover them completely with sifted powdered sugar. Let the cookies cool completely on the sheet on a cooling rack before removing them from the sheet and serving. Store the cookies in an airtight container for up to 3 days at room temperature.