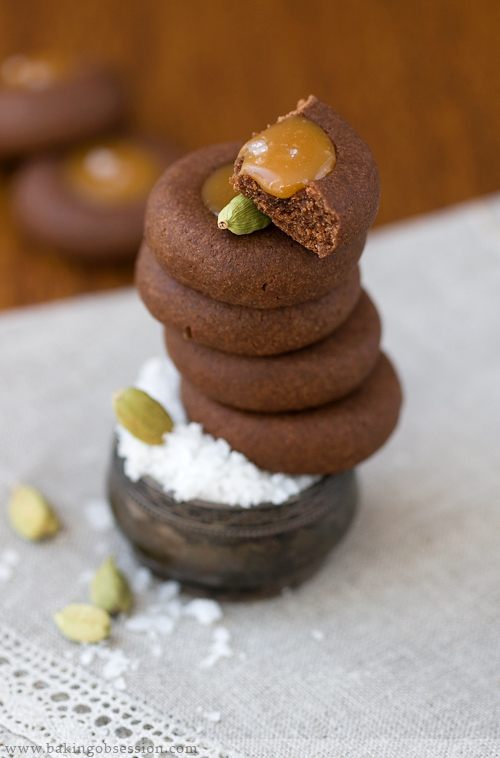 The first thing that comes to mind when I hear "thumbprint cookies" is a jewel-like, jam-filled vanilla cookies. And they are delicious (if the jam is good), no doubt. But this time I decided to shake it up a little. I wanted them chocolate this time. And for the filling I reused (very successfully) the fleur de sel and cardamom caramel I made earlier. With all my respect to the old classic, I like these particular cookies of mine better.
Makes 2 ½ dozens
For the cookies:
1 ¼ cup all purpose flour
¼ cup Dutch processed cocoa powder, sifted
½ tsp kosher salt
1 stick (8 tbsp; 113g) unsalted butter, at room temperature
½ cup dark brown sugar, packed
1 tsp pure vanilla extract
2 tbsp milk, at room temperature
For the filling:
4 oz soft fleur de sel cardamom caramel (or, for a shortcut, use store-bough soft caramels; add a pinch of ground cardamom and a bit of salt after it is melted with the cream)
2 tbsp whipping cream
Make the cookie:
Center an oven rack and preheat the oven to 325F. Line cookie sheets with parchment paper or silicone mats.
In a small bowl, whisk together the all-purpose flour, cocoa, and salt to combine. Set aside.
In a medium bowl, using an electric mixer, beat the butter until fluffy. Gradually beat in the sugar and continue mixing until light and well combined. Add the vanilla, then milk. Add the dry ingredients and mix on the low speed just until the dough forms; you might finish mixing with your hands or a wooden spoon until a soft dough forms.
Roll the dough into 1-inch balls (use a small ice cream spoon to measure out the dough; it makes the cookies uniform). Place them onto the prepared baking sheet and flatten very slightly with your hand. Using a handle of a wooden spoon, make an indentation in the center of each cookie; make it quite deep and about a penny in diameter. Chill the formed cookies for 20 minutes in the refrigerator, covered with parchment or plastic, before baking.
Bake the cookies, in batches, for 15 minutes, until the cookies appear set. Transfer the cookies on the sheet on a cooling rack and, using the same spoon handle, deepen the indentations made earlier; don't poke through though, be gentle. You do want this extra space for a delicious filling. Transfer the cookies to the cooling rack and let them cool completely before filling.

Fill the cookies:
Put the caramel and the cream into a small microwave-safe bowl. Microwave on "medium" for about a minute, pausing the microwave and stirring a couple of times, until the caramel is melted and mixture is smooth. Transfer into a small plastic bag, seal to close. Snip a corner of the bag and fill the cookies. Top with a few fleur de sel crystals if you wish.
The cookies can be store for up to a week in an airtight container.