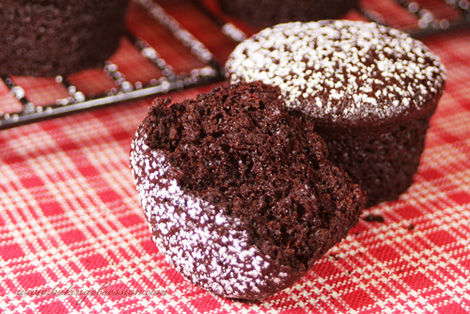 These cupcakes have so many wonderful qualities! First of all, they are very, very chocolaty, and moist, and so flavorful. And they don't have any fat except the one coming from the chocolate. It means you can eat extra one or two… oh… they are mini cupcakes, have three more. And you won't recognize the dates in the baked cupcakes. The dates make them moist but don't give a fruitcake flavor. Please, don't be penny-wise here; buy the best chocolate you can find and moist Medjool dates, and I guarantee these cupcakes will become your favorite too.

Makes 24 mini cupcakes
Ingredients:
1 cup water
1 cup pitted, coarsely chopped dates
¾ cup unsweetened Dutch-process cocoa powder
3 oz fine-quality bittersweet chocolate (not unsweetened), coarsely chopped
½ cup + 1 tbsp packed light brown sugar
3 eggs
1 tsp pure vanilla extract
¾ tsp baking soda
¼ cup + 2 tbsp all-purpose flour
¼ tsp salt
Preparation:
Center an oven rack and preheat the oven to 325 F.
Bring the water and dates just to a boil in a heavy saucepan, then transfer the mixture to a food processor and add the cocoa powder and chocolate, pulsing once or twice to combine. Let cool 2 minutes, then add the brown sugar, eggs, vanilla, baking soda, and salt, then puree until smooth. Add the flour and pulse just until incorporated.
Spray 24 mini muffin molds with a vegetable oil spray. If you don't have a nonstick muffin pan, line the regular molds with parchment liners, then spray the liners with oil.
Spoon the batter into the cups, dividing it evenly, and bake until a wooden skewer comes out clean, about 25-30 minutes. Cool the cupcakes in the pan on a rack for 10 minutes, then turn out onto a rack. Cool completely on the rack, right side up. Just before serving, sprinkle the tops lightly with confectioners' sugar.
The cupcakes can be made and cooled (but not dusted with sugar) 1 day ahead and kept in an airtight container at room temperature.